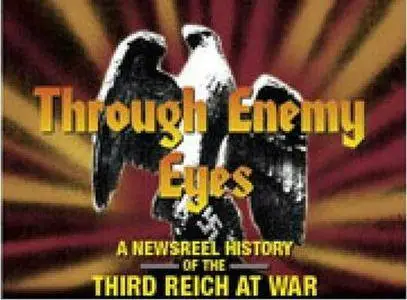 Through Enemy Eyes. A Newsreel History of the Third Reich at War. Volume 1. Disk 1 (1939-1945)
DVDRip | Avi | Xvid, ~ 1900 kbps | 720x480 | 7 x ~ 20 minutes | 7 x ~ 280 Mb
German: Dolby AC3, 2 ch, 256 kbps
Subtitle: English (Hardsub)
Genre: Documentary | History | War | Series

A Newsreel History of the Third Reich at War: Go behind enemy lines on a journey that traces the rise and fall of German military fortunes… the great battles, the desperate hours captured via authentic uncut newsreels, exactly as presented to German wartime cinema audiences.
Now see the Second World War as you've never seen it before: Through Enemy Eyes.
All newsreels have been transferred from original 35 millimeter and 16 millimeter German prints and have been accurately translated and electronically subtitled in English.
Contents of Through Enemy Eyes Volume 1 DISK 1: June 21, 1939 - Oct 4, 1939
NEWSREEL 459: Reborn German Fleet Maneuvers on High Seas; Goebbels Speaks at Protest Rally in Danzig;
NEWSREEL 468: Hitler Youth on Danube Cruise to Budapest; Danzig SA Defends Border Against Poles; German Refugees From Poland Tell of Oppression;
NEWSREEL 470: World War 2 Begins: Germany Invades Poland; Air and Sea Bombardment of Westerplatte; German Tanks and Infantry Move Deep into Poland.
NEWSREEL 471: Polish Jews and Insurgents Taken to Camps; German Soldiers at Worship in Jasna Gora Church; Wehrmacht Crosses Vistula River;
NEWSREEL 472: Hitler Reviews Troops at the Front; German Women at Work in Munitions Plant; Tank Columns Advance and Enter Lodz;
NEWSREEL 473: House-to-House Combat in Captured Cities; Germans and Soviets Meet at Brest-Litovsk.
NEWSREEL 474: Funeral of General Fritsch in Berlin; Foreign Minister von Ribbentrop Flies to Moscow; Hitler Observes Bombardment of Warsaw;