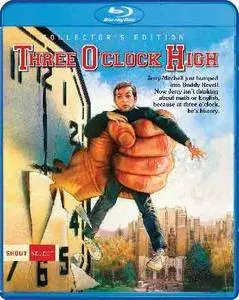 Three O'Clock High (1987) + Extras
BDRip 720p | 1h 29mn | 1280x720 | MKV AVC@2560Kbps 23.98fps | 1.85 GiB
English AC3@192Kbps 2CH 48KHz | English (Commentary) AC3@192Kbps 2CH 48KHz
Genre: Comedy | Subtitles: English
A high school nerd, Jerry Mitchell (Siemaszko) is assigned to write a piece for the school paper about new boy Buddy Revell (Tyson), who is rumored to be a psychopathic nutcase. When Jerry accidentally touches Buddy, he says that they must fight in the parking lot at 3pm. Jerry will just about do anything to avoid the confrontation.
Director
: Phil Joanou
Writers
: Richard Christian Matheson, Tom Szolossi (as Thomas Szollosi)
Stars
: Casey Siemaszko, Annie Ryan, Richard Tyson
Country
: USA
Also Known As
: 3:00 High
Ratings
: 7.2/10 from 9,049 users
Extras
:
EXTRA-'Head of the Class' ; An Interview with Phil Joanou (640 MB)
TRAILER-Theatrical Trailer (30 MB)
imdb iNFO
Screenshots