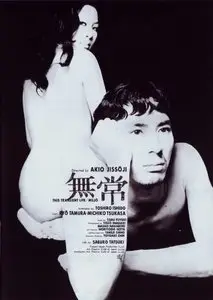 This Transient Life (1970)
DVDRip | AVI | 688x512 | XviD @ 1131 Kbps | 143 min | 1,26 Gb
Audio: Japanese MP3 @ 32 Kbps | Subs (srt): English, Spanish
Genre: Art-house, Drama, Hidden Gem
The controversial erotic masterpiece of incestuous love by Akio Jissoji.
The son and daughter of a wealthy Japanese merchant embrace the modern era and turn their backs on the traditions of their elders. The young woman eschews kimonos for miniskirts, and the long haired son ends up sleeping with her when the duo dons traditional religious masks. A Buddhist priest says nothing of her pregnancy when she is married off to the son of a faithful servant. The parents have pegged the servant's son to be the one who seduced their daughter. The son of a noted sculptor tries but fails to kill the incestuous brother and ends up killing himself. The brother goes to work for the sculptor and ends up sleeping with both the sculptor and his wife…
This Transient Life tells the story of the siblings Masao and Yuri who live in a huge estate near Lake Biwa north of Kyoto. Masao refuses to go to university and is infatuated with Buddhist sculptures. Iwashita, a student who lodges at the house, and Ogino, a young priest and former classmate of Masao, are both in love with Masao's beautiful sister Yuri, who rejects all proposals from her parents to marry her off. One day, while being alone in the big house and playing with No-masks, Masao and Yuri end up in a passionate embrace. Thus starts their forbidden relation that soon bears fruit. When Yuri gets pregnant the siblings plot a perfidious plan. Yuri seduces Iwashita only to be discovered by her parents, who then force Iwashita to marry her. Masao leaves for Kyoto to become an apprentice to the famous sculptor of Buddhist statues, Mori Takayasu. He starts a relation with the much younger wife of the impotent sculptor, who secretly enjoys watching them make love. A year later Masao briefly returns to his parents' house. He and Yuri resume their forbidden relation. When Iwashita accidentally witnesses them he despairs and commits suicide. Takayasu's son Takahiro meanwhile is unable to bear the indecorous relation between his father, his stepmother and Masao. He seeks advice from his friend Ogino, who is repulsed by Masao. Ogino had known about the incestuous relation of Masao and Yuri all along and can no longer bear Masao's immoral behavior. When he takes Masao to task he is shocked by his callousness. Masao's denial of all he had believed in plunges Ogino into deep self-doubt. A few days later Takayasu dies after finishing a statue of Kannon, the goddess of mercy. Takahiro, who himself has started a sexual relation with his stepmother, holds Masao responsible for his father's death and his own misery. In a graveyard near Ogino's temple, where the statue is erected, he attacks Masao with his father's chisel, but he himself is lethally wounded and dies. Masao hears the voice of an old woman and enters into another world.
(click to enlarge)

More in My Blog