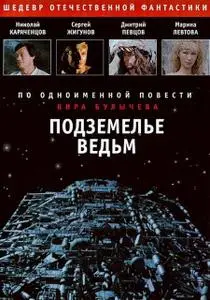 The Witches Cave (1989)
DVDRip | MKV | 704x400 | x264 @ 2098 Kbps | 80 min | 1,40 Gb
Audio: Русский AC3 5.1 @ 384 Kbps | Subs: English (embedded in MKV)
Genre: Adventure, Fantasy, Sci-fi
Director:
Yuriy Moroz
Writers:
Kir Bulychyov (screenplay), Kir Bulychyov (story)
Stars:
Sergey Zhigunov, Marina Levtova, Nikolay Karachentsov
Podzemelye Vedm (aka The Witches Cave) was a 1989 science fiction, fantasy film from Gorky Film Studios, USSR and Filmové Studio Barrandov, Czechoslovakia. The film was written by Kir Bulychyov based upon his own story and directed by Yuri Moroz. The cast featured Sergei Zhigunov as Andrei Bruce, Marina Levtova as Belogurochka Dmitri Pevtsov as Oktin Khash and Nikolai Karachentsov as cosmolinguist Jean.
An interstellar expedition is sent to study a strange planet. Despite the fact that creatures from various Earth time periods inhabit the world, the natives possess metal swords, even though they should have no knowledge of such weaponry.
This is a sci-fi movie, it has nothing to do with the Bible and/or biblical symbolism. Nice and pure piece of fiction, story of what might become of us. Contact with an alien life, justification our of intervention into natural order, men and what they carry within them to the starts are the main problems aroused by the film. A.Tarkovskiy's "Solaris" (written by S.Lem) would be the closest in a genre. One might find deeper thoughts encapsulated within the story, but in reality it has no more that any other movie would have. Easy to watch, a bit naive. I'll give it 10 of 10 for the script, 8 for the play, 5 for decorations/special effects (don't expect much). Enjoy it, should you find decent translation or subtitles.
(click to enlarge)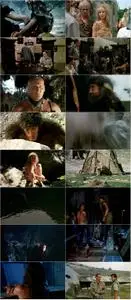 More in My Blog