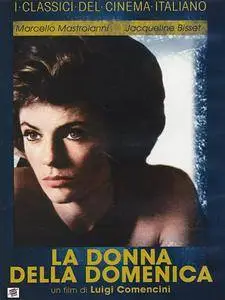 The Sunday Woman (1975)
DVDRip | AVI | 608x448 | XviD @ 1379 Kbps | 104 min | 1,09 Gb
Audio: Italiano MP3 @ 128 Kbps | Subs: English (srt)
Genre: Comedy, Mystery
Director:
Luigi Comencini
Writers:
Carlo Fruttero (novel) (as Fruttero), Franco Lucentini (novel) (as Lucentini)
Stars:
Marcello Mastroianni, Jacqueline Bisset, Jean-Louis Trintignant
Police commissioner Santamaria is investigating the murder of the ambiguous architect Mr. Garrone. The investigations soon drive him into Torino's high society. Santamaria suspects Anna Carla and at the same time he falls in love with her. Lello is the lover of Massimo, a homosexual platonic friend of Anna Carla. He is following another direction in order to find out the truth, and his results are confusing the Policeman. But another murder happens…
"La donna della domenica" is an outstanding film, but one that is unlikely to be fully appreciated by non-Italians, most of whom might see it as a whodunnit of sorts. Its strength lies, instead, not just with its excellent cast, but also with the caustic way in which it describes Turin's high society: full of characters that, behind their apparent stylishness and elegance, betray a penchant for hypocrisy and an inability to look further than the conventional way in which they live.

It looks more like a comedy, and a well-written, witty one at that.
(click to enlarge)

More in My Blog