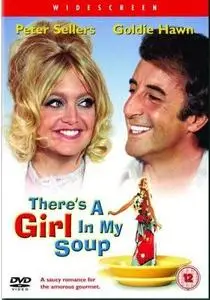 There's a Girl in My Soup (1970)
DVDRip | MKV | 720x456 | x264 @ 2020 Kbps | English AC3 2.0 @ 192 Kbps | 95 min | 1,48 Gb
Genre: Comedy, Romance
Director
: Roy Boulting
Writers
: Terence Frisby (screenplay), Terence Frisby (based on his stage play of the same name)
Stars
: Peter Sellers, Goldie Hawn, Tony Britton
TV personality Robert Danvers, an exceedingly vain rotter, seduces young women daily, never staying long with one. He meets his match in Marion, an American, 19, who's available but refuses any romantic illusions. At first, her candor and cynicism put him off, but after he witnesses her breaking up with her rocker boyfriend, he's attracted to her and invites her on an idyllic two-week trip to France. Slowly, she pokes holes in his artifice and he comes to care for her. When they return to London, with the press thinking they're married, they come to a cross-roads: go back to their old lives, marry each other, or invent a new, open relationship. Is Robert up to it?
Not sure why it doesn't play in Peoria, apparently, but this is a very funny, clever British comedy. It's set at the end of the "swinging sixties". Peter Sellars is fantastic as the rich, forty-something serial womaniser. The perfectly delectable Goldie Hawn, playing a 19 year American girl in London, is, initially, Sellars' "catch of the day". But the urbane TV food critic can't stop himself from falling for the dizzy American blond.

Humour, pathos, great script, strong performances from the leads and supporting caste.

It's a great film, and the best gag is the very last line.

Try it, you'll like it.
(click to enlarge)
More in My Blog