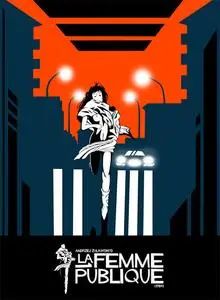 The Public Woman (1984)
DVDRip | MKV | 656x400 | XviD @ 1616 Kbps | 114 min | 1,45 Gb
Audio: Français AC3 2.0 @ 192 Kbps | Subs: English (embedded in MKV)
Genre: Drama, Erotic
Director
: Andrzej Zulawski
Writers
: Dominique Garnier (scenario), Andrzej Zulawski (scenario)
Stars
: Francis Huster, Valérie Kaprisky, Lambert Wilson
An unexperienced young actress is invited to play a role in a film based on Dostoyevsky's 'The Possessed'. The film director, a Czech immigrant in Paris, takes over her life, and in a short time she is unable to draw the line between acting and reality. She winds up playing a real-life role posing as the dead wife of another Czech immigrant, who is manipulated by the filmmaker into commiting a political assasination.
This movie might confuse and frustrate viewers and rightly so, for it's lack of discernible plot elements and objectives, but rightly so because Throughout his career Zulawsky as director is more concerned with making his viewers go thru the raw emotions, sights and situations rather than drawing conclusions or tying plots.

The key in this film is that everything is experienced thru the point of view of Ethel - a stunning Valerie Kaprisky - we are limited to what she experiences and thinks, and it is a very emotionally charged view, one in which only the senses and guts can be trusted … to an extent.

This might be obvious, but the film also deals with a lot about sexuality, there is a lot of sexual tension throughout the film, right from the title and the first images the main force driving the film is the associative and intuitive.

The production is very detailed, and impressive in the sense that is firmly supportive of the history, I have always found Zulawsky a superior director in his choice of locations, actors, misè-en-scene, etc.

Finally it has a bit of uneven pace, and in the end this movie is more a feast for the senses than an intellectual mystery.
(click to enlarge)
More in My Blog