The Nude Princess (1976)
DVDRip | MKV | 640x336 | x264 @ 1251 Kbps | 91 min | 910 Mb
Audio: Italiano MP3 @ 128 Kbps | Subs: English (srt)
Genre: Drama, Erotic
Director:
Cesare Canevari
Writers:
Cesare Canevari, Antonio Lucarella
Stars:
Ajita Wilson, Tina Aumont, Luigi Pistilli
When a delegation from the African country of Taslamia, headed by its prime minister, Princess Mariam, who also happens to be the lover of that country's dictator, Kaboto, arrives in Milan, various Italian businessmen compete frantically for her financial and sexual favors.
Transsexual cult star Ajita Wilson toplines this hallucinatory foray into sex and voodoo from director Cesare Canevari (Delitto Carnale, L'Ultima Orgia del III Reich). Wilson plays an African princess who comes to Milan as a diplomat, but is tormented by a past that includes pornographic modeling and seeing her lover brutally murdered, an experience which left her incapable of reaching orgasm. That doesn't stop her from trying, however, as she engages in crazed voodoo orgies, lesbianism, and so forth until the love of a compassionate reporter (Luigi Pistilli) frees her spirit. Tina Aumont co-stars in this intriguing trash spectacle, which is aided tremendously by the bizarre photography of Claudio Catozzo and Canevari's surrealistically offbeat style.
(click to enlarge)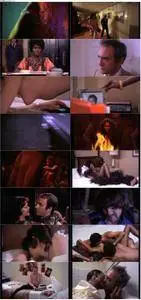 More in My Blog