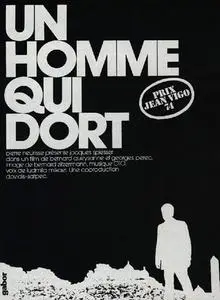 The Man Who Sleeps (1974)
DVDRip | MKV | 718x574 | x264 @ 3415 Kbps | 77 min | 1,99 Gb
Audio: Français AC3 2.0 @ 256 Kbps | Subs: English (embedded in MKV)
Genre: Drama
Director
: Bernard Queysanne
Writers
: Georges Perec (novel), Georges Perec (screenplay)
Stars
: Jacques Spiesser, Ludmila Mikaël
A 25-year-old male student in Paris becomes indifferent to the world around him, and subsequently feels a strong sense of alienation and hopelessness.
Here, a truly great fusion of french cinema and existential meditation. Surely a modern classic ? A tonic for any modern young adult in the throws of angst or severe doubt and questioning about the world. A rite of passage i have observed in many a friend in my own life.

French cinema is in the habit of not letting you down. It thankfully goes all the way when it comes to philosophical comment. It's discourses articulating the feelings you long to, no need, must hear from the world.

Somewhere in the vaults there it sits underplayed. Play this film. So modest, so slight, so grave. The uplifting chant of a culture that knows how to speak. Perec the writer and director, a national treasure for a good reason.
(click to enlarge)

More in My Blog