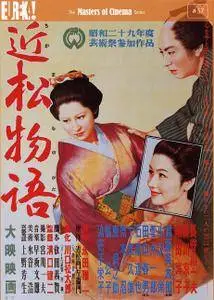 The Crucified Lovers (1954)
DVDRip | MKV | 720x476 | x264 @ 1674 Kbps | 102 min | 1,55 Gb
Audio: Japanese (日本語) AC3 2.0 @ 448 Kbps | Subs: English (embedded in MKV)
Genre: Drama, Romance
Director:
Kenji Mizoguchi
Writers:
Monzaemon Chikamatsu (play), Matsutarô Kawaguchi (adaptation)
Stars:
Kazuo Hasegawa, Kyôko Kagawa, Eitarô Shindô
In 17th century Kyoto, Osan is married to Ishun, a wealthy miserly scroll-maker. When Osan is falsely accused of having an affair with the best worker, Mohei, the pair flee the city and declare their love for each other. Ishun orders his men to find them, and separate them to avoid public humiliation.
Master filmmaker Kenji Mizoguchi directs this tale of star-crossed lovers, based on a puppet play by Monzaemon Chikamatsu. Set in 1693 during a period of rigid feudal hierarchy and strict social custom
This film was near the end of a wonderful sequence of films made near the end of his life by Mizoguchi. As Tony Raines says in the DVD extra for the Masters of Cinema edition this was a studio project that he was not wholly enthusiastic about. This shows a little in the film as it lacks some of the real flair and emotional power of some of his earlier great films. However, it shares with them his wonderful flowing camera and great cinematography. Its also a terrific story, based originally on a story from the great Japanese 17th Century playwright Monzaemon Chikamatsu (hence the Japanese name, A Tale from Chikamatsu). The screenplay is skillfully worked from the original story, which depends a lot of some pretty unlikely coincidences.

The film has a great cast, although the lead actor (and major star at the time) Kazuo Hazegawa is a little old for the role of the shy lover. Kyoko Kagawa is great as the wife of a powerful merchant who is mistakenly accused of having an affair with her servant, but then falls in love with him as they both go on the run.
(click to enlarge)

More in My Blog