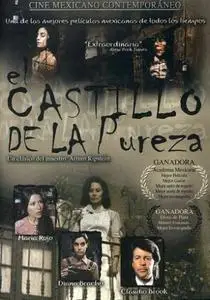 The Castle of Purity (1973)
DVDRip | MKV | 720x480 | x264 @ 2136 Kbps | 108 min | 1,79 Gb
Audio: Español AC3 2.0 @ 192 Kbps | Subs: English (embedded in MKV)
–––-
WEBRip 1080p | MKV | 1920x1080 | x264 @ 2196 Kbps |
Audio: Español AAC 2.0 @ 218 Kbps | Subs: English, Español, Italiano, Türkçe, Macedonian, Serbian
Genre: Drama
Director:
Arturo Ripstein
Writers:
José Emilio Pacheco, Arturo Ripstein
Stars:
Claudio Brook, Rita Macedo, Arturo Beristáin
The story of a disciplined and sexually driven man who keeps his family isolated in his home for years to protect them from the "evil nature" of human beings while inventing (with his wife) rat poison.
Cinema and painting are different forms of art. While the former is a mode of telling stories, it can be said that the latter is a form of visually representing those stories. For an astute viewer, true cinematographic art is created when a film director is able to merge both these forms of art. It is with Castle of Purity/"El Castillo de la Pureza" that Mexican cinema auteur Arturo Ripstein has directed a film wherein one sees cinema being portrayed on a big screen as an art form. It can be said that through this film he has depicted that in some ways a director can also be a small scale painter. He has made great use of closed spaces and nature as each frame, each shot bears the mark of an accomplished painter. His film is about a strict yet hypocrite disciplinarian who would go to any length in order to enforce discipline. Sensible viewers would be able to relate to the film's theme as it is quite possible for people to find a cruel misanthrope in their midst. It is not a daily occurrence that one gets to see a film whose protagonist likens human beings to rats. Mexican actors Claudio Brook and Rita Macedo play important roles in this film. In 1995, on the occasion of 100 years of cinema, Variety International Film Guide asked its national correspondents to list their country's top 10 films. The name of Mexican film Castle of Purity "El Castillo de la Pureza" appeared in that important list. It has been universally hailed as the film which got its author Arturo Ripstein immense critical acclaim.
(click to enlarge)
DVDRip:

More in My Blog