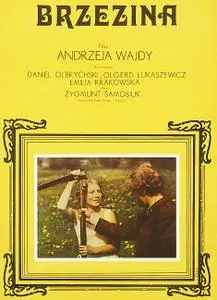 The Birch Wood (1970)
DVDRip | MKV | 692x560 | x264 @ 2308 Kbps | 90 min | 1,52 Gb
Audio: Polski AC3 1.0 @ 96 Kbps | Subs: English (embedded in MKV)
Genre: Drama
Director:
Andrzej Wajda
Writers:
Jaroslaw Iwaszkiewicz (short story), Andrzej Wajda
Stars:
Daniel Olbrychski, Olgierd Lukaszewicz, Emilia Krakowska
Takes place in a prewar Poland. A tubercular young man comes to stay with his brother on a farm. He is in love with life and constantly plays 1930's music on a piano. He gets involved with his brother's problems and also becomes the lover of a simpleminded farm girl. The brother's dead wife may have had an affair with the hired man who is to marry the farm girl. His daughter will not confirm his suspicions. But the brother's death leads to his acceptance of the past, forgiving his wife's memory and making up with his little daughter.
The main character of this movie is Death. Not the impersonated Death, as seen in Bergman's "The Seventh Seal" or in Foss's "All That Jazz", but rather the sorrowful consciousness of human frailty. The main character, a Polish musician (because, as you've already seen, Wajda is Polish) on the threshold of death, tries to find his inner peace in a cottage within the woods. Don't expect action or hype. This is mainly an artsy, European-style movie, whose image and birch forests are strongly reminding of Tarkovsky, especially "Ivan's Childhood". Among all them frantic movies, this movie is a strong, artistic memento mori.
(click to enlarge)

More in My Blog