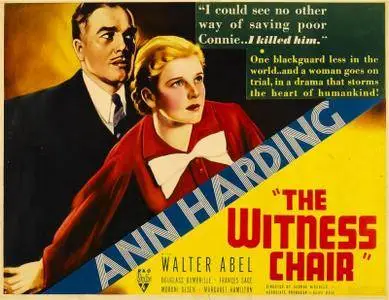 The Witness Chair (1936)
A Film by George Nichols Jr.
TVRip | AVI | 1h 3min | 624x464 | XviD @ 1767Kbps | MP3 @ 192Kbps
Lang: English | Subs: None | 896 MB
Genre: Drama | Romance
IMDB Info
IMDB Rating:
6.1/10
Directed by:
George Nichols Jr.
Starring:
Ann Harding, Walter Abel, Douglass Dumbrille
Storyline:
With her RKO Radio contract nearing an end, Ann Harding had little choice but accept such trifles as The Witness Chair. Engaged to widower Trent (Walter Abel), Paula (Harding) discovers to her horror that Trent's daughter Connie (Frances Sage) intends to elope with no-good embezzler Whittaker (Douglass Dumbrille). Unable to talk Whittaker out of ruining Connie's life, Paula murders the cad then does her best to destroy all the evidence. Alas, she succeeds only in convincing the authorities that Trent is the guilty party! The courtroom finale, which should have been the film's highlight, is not, due to funereal pacing and unimaginative camera angles. The Witness Chair convinced Ann Harding that she was through in Hollywood, whereupon she packed her bags and headed to London, briefly retiring from films the following year upon her marriage to symphony conductor Werner Janssen.
Screenshots: