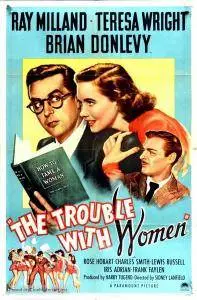 The Trouble with Women (1947)
English | DVDRip | MKV | 640x480 | AVC @ 1500 kb/s | 928 MB
Audio: AAC @ 128 kb/s | 2 channels | 01:19:30 minutes
Genre: Comedy
Milland is charming as Gilbert Sedley, an innocent professor – he's apparently been isolated working in the Orient too long – who is baffled by his strong reactions to a young newspaper reporter, Kate Farrell (Teresa Wright). Why does he think of Niagara Falls whenever he's around her? Gilbert's determined to figure it out, which naturally means he should be with her whenever possible…jotting down notes about all his mysterious reactions to being in Kate's company.