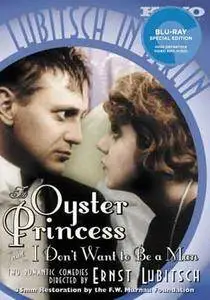 The Oyster Princess (1919)
BDRip | 57mn | 720x540 | MKV AVC@723Kbps 19.98fps | AAC@172Kbps 2CH 48KHz | 762.11 MiB
BDRip 1080p | 57mn | 960x720 | MKV AVC@4751Kbps 19.98fps | AC3@640Kbps 2CH 48KHz | 2.18 GiB
Language: German | Genre: Comedy | Subtitles: English
Oyster-king Quaker cannot be impressed anymore. He is so rich that he even has a special butler holding his cigar while he is smoking. The only thing Quaker would be impressed by is if his daughter Ossi were to marry a real prince. He makes an offer to the poor prince Nucki, who sends his friend Josef to get a clear idea of the woman.
Director
: Ernst Lubitsch
Writers
: Hanns Kräly, Ernst Lubitsch
Stars
: Victor Janson, Ossi Oswalda, Harry Liedtke
Country
: Germany
Also Known As
: My Lady Margarine | Die Austernprinzessin
Ratings
: 7.1/10 from 1,253 users
imdb iNFO
ScreenshotsBDRip

BDRip 1080p