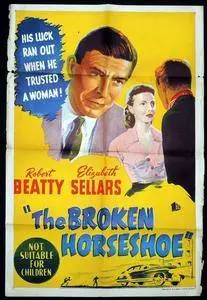 The Broken Horseshoe (1953)
English | TVRip | AVI | 512x384 | XviD @ 1156 kb/s | 700 MB
Audio: MP3 @ 128 kb/s | 2 channels | 01:15:48 minutes
Genre: Crime
Robert Beatty stars in this rapid-fire British programmer as an innocent bystander mixed up with drug smugglers. When things look darkest, Beatty is helped out by femme fatale Elizabeth Sellars. The smugglers are routed, and the figurative broken horseshoe of the title is mended so far as Beatty is concerned. The film was based on a popular British TV series by Francis Durbridge.