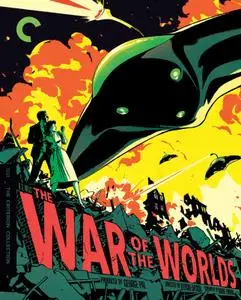 The War of the Worlds (1953) [Criterion Collection, Spine #1037]
DVD Video | 1hr 25mn | NTSC 4:3 | 720x480 | 7.50 Gb
English: Dolby AC3, 6 ch \ Dolby AC3, 1 ch; English (Сommentary): Dolby AC3, 1 ch
Subtitles: English
Genre: Action, Sci-Fi, Thriller


Director:
Byron Haskin
Writers:
H.G. Wells (novel), Barré Lyndon (screenplay)
Stars:
Gene Barry, Ann Robinson, Les Tremayne
A mysterious, meteorlike object has landed in a small California town. All clocks have stopped. A fleet of glowing green UFOs hovers menacingly over the entire globe. The Martian invasion of Earth has begun, and it seems that nothing—neither military might nor the scientific know-how of nuclear physicist Dr. Clayton Forrester (Gene Barry)—can stop it. In the expert hands of genre specialists George Pal and Byron Haskin, H. G. Wells's end-of-civilization classic receives a chilling Cold War–era update, complete with hallucinatory Technicolor and visionary, Oscar-winning special effects. Emblazoned with iconographic images of 1950s science fiction, The War of the Worlds is both an influential triumph of visual imagination and a still-disquieting document of the wonder and terror of the atomic age.
Special Features:
- Audio commentary from 2005 featuring filmmaker Joe Dante, film historian Bob Burns, and author Bill Warren
- Movie Archaeologists, a new program on the visual and sound effects in the film featuring Burtt and film historian Craig Barron
- From the Archive, a new program about the film's restoration featuring Barron, Burtt, and Paramount Pictures archivist Andrea Kalas
- Audio interview with producer George Pal from 1970
- The Sky Is Falling, a 2005 documentary about the making of the film
- The Mercury Theatre on the Air radio adaptation of The War of the Worlds from 1938, directed and narrated by Orson Welles
- Radio program from 1940 featuring a discussion between Welles and H. G. Wells, author of the 1897 novel The War of the Worlds
- Trailer


Title: TheWarOfTheWorlds.1953.Cr.D9
Size: 7.50 Gb ( 7 860 082,00 KBytes ) - DVD-9
Enabled regions: 1, 2, 3, 4, 5, 6, 7, 8

VTS_01 :
Play Length: 00:00:00
Video: NTSC 16:9 (720x480) VBR, Auto Letterboxed

VTS_02 :
Play Length: 01:25:32
Video: NTSC 4:3 (720x480) VBR
Audio:
English (Dolby AC3, 1 ch)
English (Dolby AC3, 6 ch)
English (Dolby AC3, 1 ch)
Subtitles:
English

VTS_03 :
Play Length: 00:00:20
Video: NTSC 16:9 (720x480) VBR, Auto Pan&Scan

VTS_04 :
Play Length: 00:29:26
Video: NTSC 16:9 (720x480) VBR, Auto Letterboxed
Audio:
English (Dolby AC3, 1 ch)

VTS_05 :
Play Length: 00:20:27
Video: NTSC 16:9 (720x480) VBR, Auto Letterboxed
Audio:
English (Dolby AC3, 6 ch)

VTS_06 :
Play Length: 00:29:57
Video: NTSC 4:3 (720x480) VBR
Audio:
English (Dolby AC3, 2 ch)

VTS_07 :
Play Length: 00:02:23
Video: NTSC 4:3 (720x480) VBR
Audio:
English (Dolby AC3, 1 ch)

VTS_08 :
Play Length: 00:23:57
Video: NTSC 16:9 (720x480) VBR, Auto Letterboxed
Audio:
English (Dolby AC3, 1 ch)
Subtitles:
English

VTS_09 :
Play Length: 00:57:25
Video: NTSC 16:9 (720x480) VBR, Auto Letterboxed
Audio:
English (Dolby AC3, 1 ch)
Subtitles:
English

VTS_10 :
Play Length: 00:49:07
Video: NTSC 16:9 (720x480) VBR, Auto Letterboxed
Audio:
English (Dolby AC3, 1 ch)
Subtitles:
English

VTS_11 :
Play Length: 00:00:00
Video: NTSC 16:9 (720x480) VBR, Auto Letterboxed


All thanks to the original uploader