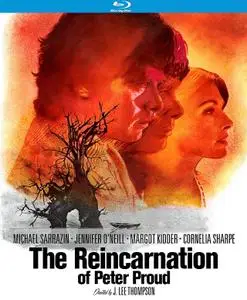 The Reincarnation of Peter Proud (1975)
Blu-Ray | BDMV | AVC, 1920x1080, ~35.0 Mbps | 1hr 45mn | 31,1 GB
English: DTS-HD MA, 2 ch, 1556 kbps; English (Commentary): AC3, 2 ch, 192 kbps
Subtitles: English
Genre: Horror, Mystery
IMDB Rating: 6.5/10 (1.436 votes)
Director:
J. Lee Thompson
Writers:
Max Ehrlich (screenplay by), Max Ehrlich (from his novel)
Stars:
Michael Sarrazin, Jennifer O'Neill, Margot Kidder
Film Distributor:
Kino Lorber
Extras:
- Audio Commentary with film historian Lee Gambin.
- Spanish Super 8 Footage vs. U.S. – Side by Side (2:13, HD)
- Spanish Super 8 Footage (2:42, HD)
- TV Spot (:30, HD)
- Radio Spots included 30-Second (:29) and 60-Second (1:00).
- Posters and Lobby Cards (5:52)
- Promotional Material (1:59)
- Home Video Releases (:49)
- Promotional Stills (:36)
- U.S. Theatrical Trailer (1:48, HD)
- German Trailer (1:51, HD)
When college professor, Peter Proud begins experiencimg flashbacks of an earlier life, he's mysteriously drawn to a place he's never been to, but which seems familiar. He soon finds his previous incarnation's wife. This woman, Marcia Curtis, sees in Peter startling characteristics which he shares with her dead husband, Jeff. Even the sound of his voice seems at times to be that of the dead man.

                                                                                                                Total   Video                                             
Title                                                           Codec   Length  Movie Size      Disc Size       Bitrate Bitrate Main Audio Track                          Secondary Audio Track
-----                                                           ------  ------- --------------  --------------  ------- ------- ------------------                        ---------------------
00004.MPLS                                                      AVC     1:45:39 30 641 565 696  33 403 509 594  38,67   34,94   DTS-HD Master 2.0 1556Kbps (48kHz/16-bit) 



DISC INFO:

Disc Title:     TheReincarnationOfPeterProud.75.BR.KinoLorber
Disc Size:      33 403 509 594 bytes
Protection:     AACS
BD-Java:        No
BDInfo:         0.5.8

PLAYLIST REPORT:

Name:                   00004.MPLS
Length:                 1:45:39.833 (h:m:s.ms)
Size:                   30 641 565 696 bytes
Total Bitrate:          38,67 Mbps

VIDEO:

Codec                   Bitrate             Description     
-----                   -------             -----------     
MPEG-4 AVC Video        34938 kbps          1080p / 23,976 fps / 16:9 / High Profile 4.1

AUDIO:

Codec                           Language        Bitrate         Description     
-----                           --------        -------         -----------     
DTS-HD Master Audio             English         1556 kbps       2.0 / 48 kHz / 1556 kbps / 16-bit (DTS Core: 2.0 / 48 kHz / 1509 kbps / 16-bit)
Dolby Digital Audio             English         192 kbps        2.0 / 48 kHz / 192 kbps

SUBTITLES:

Codec                           Language        Bitrate         Description     
-----                           --------        -------         -----------     
Presentation Graphics           English         23,761 kbps                     

FILES:

Name            Time In         Length          Size            Total Bitrate   
----            -------         ------          ----            -------------   
00010.M2TS      0:00:00.000     0:00:11.010     712 704         518             
00004.M2TS      0:00:11.010     1:45:28.822     30 640 852 992  38 732          

CHAPTERS:

Number          Time In         Length          Avg Video Rate  Max 1-Sec Rate  Max 1-Sec Time  Max 5-Sec Rate  Max 5-Sec Time  Max 10Sec Rate  Max 10Sec Time  Avg Frame Size  Max Frame Size  Max Frame Time  
------          -------         ------          --------------  --------------  --------------  --------------  --------------  --------------  --------------  --------------  --------------  --------------  
1               0:00:00.000     0:12:53.522     29 998 kbps     39 399 kbps     00:09:00.706    37 709 kbps     00:07:58.728    37 546 kbps     00:07:25.778    156 390 bytes   385 625 bytes   00:09:01.582    
2               0:12:53.522     0:15:23.088     34 611 kbps     42 375 kbps     00:17:59.870    38 143 kbps     00:17:55.824    37 553 kbps     00:16:48.632    180 448 bytes   400 441 bytes   00:17:16.827    
3               0:28:16.611     0:12:43.846     37 243 kbps     40 572 kbps     00:35:50.273    37 924 kbps     00:35:46.227    37 567 kbps     00:31:31.639    194 166 bytes   396 533 bytes   00:36:34.483    
4               0:41:00.458     0:12:14.233     37 168 kbps     40 883 kbps     00:44:45.224    38 059 kbps     00:44:41.178    37 720 kbps     00:44:36.173    193 779 bytes   402 135 bytes   00:44:45.849    
5               0:53:14.691     0:11:48.708     36 439 kbps     39 656 kbps     00:56:01.399    37 838 kbps     00:56:07.405    37 566 kbps     00:56:36.142    189 975 bytes   393 735 bytes   00:56:12.160    
6               1:05:03.399     0:13:04.033     36 598 kbps     39 311 kbps     01:15:00.996    37 748 kbps     01:12:26.592    37 556 kbps     01:12:21.587    190 804 bytes   376 313 bytes   01:12:41.648    
7               1:18:07.432     0:15:05.154     36 720 kbps     40 243 kbps     01:21:20.250    37 782 kbps     01:21:16.246    37 602 kbps     01:21:11.241    191 442 bytes   354 815 bytes   01:28:39.230    
8               1:33:12.586     0:12:27.246     30 583 kbps     38 667 kbps     01:38:08.549    37 593 kbps     01:38:04.545    37 491 kbps     01:38:01.542    159 455 bytes   312 001 bytes   01:38:11.302    

STREAM DIAGNOSTICS:

File            PID             Type            Codec           Language                Seconds                 Bitrate                 Bytes           Packets         
----            ---             ----            -----           --------                --------------          --------------          -------------   -----           
00010.M2TS      4113 (0x1011)   0x1B            AVC                                     10,886                  435                     591 690         3 327           
00004.M2TS      4113 (0x1011)   0x1B            AVC                                     6328,656                34 999                  27 686 962 050  150 561 109     
00004.M2TS      4352 (0x1100)   0x86            DTS-HD MA       eng (English)           6328,656                1 559                   1 233 318 320   7 714 915       
00004.M2TS      4353 (0x1101)   0x81            AC3             eng (English)           6328,656                192                     151 891 200     988 875         
00004.M2TS      4608 (0x1200)   0x90            PGS             eng (English)           6328,656                24                      18 829 769      110 831         


All thanks to the original uploader