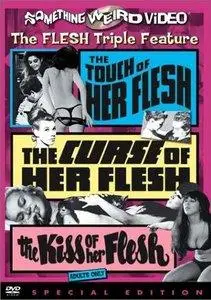 The Michael Findlay Flesh Trilogy (1967-1968)
DVD Video | NTSC 4:3 | 720x480 | 1hr 09mn + 1hr 18mn + 1hr 14mn | 7.93 Gb
English: Dolby AC3, 2 ch
Subtitles: None
Genre: Horror, Thriller, Exploitation

Director:
Michael Findlay
Findlay's breakthrough film was The Touch of Her Flesh (1967). He directed and starred in this story of a sadistic, misogynist psycho-killer who stalks prostitutes and strippers. The killings are done with imaginative devices such as poison-tipped rose thorns, blowdarts, a crossbow, a scimitar, and a buzzsaw.
The movie became a surprise hit, calling for two sequels, The Curse of Her Flesh and The Kiss of Her Flesh (both 1968). The trilogy, filled with fetishistic scenes of bondage, whipping, torture, and grotesque violence, was unusual for its time and presaged the 1970s slasher horror films to come.
The Touch Of Her Flesh (1967) - IMDB Rating: 5.7/10 (213 votes)
The Curse of Her Flesh (1968) - IMDB Rating: 5.8/10 (162 votes)
The Kiss of Her Flesh (1968) - IMDB Rating: 5.7/10 (155 votes)
Extras:
- None


Title: TheMichaelFindlayFleshTrilogy.D9
Size: 7.93 Gb ( 8 317 606,00 KBytes ) - DVD-9
Enabled regions: 1, 2, 3, 4, 5, 6, 7, 8

VTS_01 :
Play Length: 00:02:41
Video: NTSC 4:3 (720x480) VBR
Audio:
English (Dolby AC3, 1 ch)

VTS_02 :
Play Length: 01:09:22
Video: NTSC 4:3 (720x480) VBR
Audio:
English (Dolby AC3, 2 ch)

VTS_03 :
Play Length: 01:18:01
Video: NTSC 4:3 (720x480) VBR
Audio:
English (Dolby AC3, 2 ch)

VTS_04 :
Play Length: 01:14:41
Video: NTSC 4:3 (720x480) VBR
Audio:
English (Dolby AC3, 2 ch)