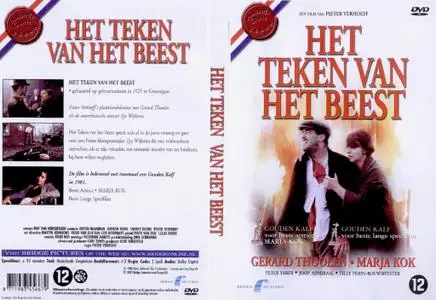 Het Teken van het Beest / The Mark of the Beast (1980)
DVD Video | 1hr 30mn | PAL 4:3 | 720x576 | 3.63 Gb
Dutch (Nederlands): AC3, 2 ch, 224 kbps | Subtitles: English
Genre: Biography, Drama, History


Director:
Pieter Verhoeff
Writers:
Anton Haakman (screenplay), Jurriën Rood (screenplay) (as Jurien Rood)
Stars:
Gerard Thoolen, Marja Kok, Peter Faber
Tags:
Golden Calf Winners
In 1928 in the northern part of the Netherlands, a man has an affair with the wife of one of his friends (who is in jail at the time). Because she abandons her children to move in with him, the police are sent to arrest her. This leads to a dramatic confrontation.
Extras:
- None


Title: TheMarkOfTheBeast.1981.D5
Size: 3.63 Gb ( 3 808 058,00 KBytes ) - DVD-5
Enabled regions: 1, 2, 3, 4, 5, 6

VTS_01 :
Play Length: 00:00:00
Video: PAL 4:3 (720x576) VBR
Audio:
Nederlands (Dolby AC3, 2 ch)
Subtitles:
English

VTS_02 :
Play Length: 00:00:16
Video: PAL 4:3 (720x576) VBR
Audio:
Nederlands (Dolby AC3, 2 ch)
Subtitles:
English

VTS_03 :
Play Length: 00:00:15
Video: PAL 4:3 (720x576) VBR
Audio:
Nederlands (Dolby AC3, 2 ch)
Subtitles:
English

VTS_04 :
Play Length: 01:30:33+{01:30:33}+{01:30:33}+{01:30:33}
Video: PAL 4:3 (720x576) VBR
Audio:
Nederlands (Dolby AC3, 2 ch)
Subtitles:
English