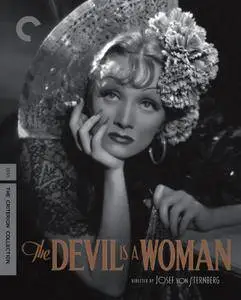 The Devil Is a Woman (1935) [Criterion Collection, Spine #935]
DVD Video | NTSC 4:3 | 720x480 | 1hr 19mn | 3.90 Gb
English: Dolby AC3, 1 ch
Subtitles: English
Genre: Comedy, Drama, Romance, Black & White
IMDB Rating: 7.2/10 (2.536 votes)
Director:
Josef von Sternberg (as Josef Von Sternberg)
Writers:
Pierre Louÿs (novel) (as Pierre Louys), John Dos Passos (adaptation)
Stars:
Marlene Dietrich, Lionel Atwill, Edward Everett Horton
Josef von Sternberg and Marlene Dietrich went out with a bang in their final film together, The Devil Is a Woman, a surreal tale of erotic passion and danger set amid the tumult of carnival in turn-of-the-twentieth-century Spain. Through a series of flashbacks, Captain Costelar (Lionel Atwill) recounts to the young Antonio Galvan (Cesar Romero) the story of his harrowing affair with the notorious seductress Concha Perez (Dietrich), warning his listener to gird himself against her charms. Despite his counsel, Galvan falls under Concha's spell, leading to a violent denouement. Ever the ornate visual stylist, von Sternberg evokes Spanish culture with a touch of the luridly fantastic, further elevated by Travis Banton's opulent costume design and award-winning cinematography by von Sternberg himself.
Extras:
- "If It Isn't Pain", a song removed from the film
Dietrich & von Sternberg in Hollywood (Spine #930):
- Morocco (1930)
- Dishonored (1931)
- Shanghai Express (1932)
- Blonde Venus (1932)
- The Scarlet Empress (1934)
- The Devil Is a Woman (1935)
Tasked by studio executives with finding the next great screen siren, visionary Hollywood director Josef von Sternberg joined forces with rising German actor Marlene Dietrich, kicking off what would become one of the most legendary partnerships in cinema history. Over the course of six films produced by Paramount in the 1930s, the pair refined their shared fantasy of pleasure, beauty, and excess. Dietrich's coolly transgressive mystique was a perfect match for the provocative roles von Sternberg cast her in—including a sultry chanteuse, a cunning spy, and the hedonistic Catherine the Great—and the filmmaker captured her allure with chiaroscuro lighting and opulent design, conjuring fever-dream visions of exotic settings from Morocco to Shanghai. Suffused with frank sexuality and worldly irony, these deliriously entertaining masterpieces are landmarks of cinematic artifice.


Title: TheDevilIsAWoman.35.Cr.D5
Size: 3.90 Gb ( 4 090 514,00 KBytes ) - DVD-5
Enabled regions: 1, 2, 3, 4, 5, 6, 7, 8

VTS_01 :
Play Length: 00:00:00
Video: NTSC 16:9 (720x480) VBR, Auto Letterboxed

VTS_02 :
Play Length: 01:19:47
Video: NTSC 4:3 (720x480) VBR
Audio:
English (Dolby AC3, 1 ch)
Subtitles:
English

VTS_03 :
Play Length: 00:00:20
Video: NTSC 16:9 (720x480) VBR, Auto Pan&Scan

VTS_04 :
Play Length: 00:00:00
Video: NTSC 16:9 (720x480) VBR, Auto Letterboxed

–––––––––––––––––––––––––––––––––––––––––––


All thanks to the original uploader