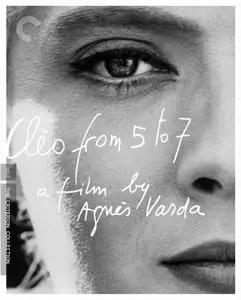 The Complete Films of Agnès Varda. Disc 3/15. Cleo from 5 to 7 / Cléo de 5 à 7 (1962) [Criterion Collection]
Blu-Ray | BDMV | AVC, 1920x1080, ~35.7 Mbps | 1hr 30mn | 45,2 GB
French (Français): AC3, 1 ch, 448 kbps | Subtitles: English
Genre: Comedy, Drama, Music


Stars:
Corinne Marchand, Antoine Bourseiller, Dominique Davray
Agnès Varda eloquently captures Paris in the sixties with this real-time portrait of a singer (Corinne Marchand) set adrift in the city as she awaits test results of a biopsy. A chronicle of the minutes of one woman's life, Cléo from 5 to 7 is a spirited mix of vivid vérité and melodrama, featuring a score by Michel Legrand (The Umbrellas of Cherbourg) and cameos by Jean-Luc Godard and Anna Karina.
The Complete Films of Agnès Varda:
A founder of the French New Wave who became an international art-house icon, Agnès Varda was a fiercely independent, restlessly curious visionary whose work was at once personal and passionately committed to the world around her. In an abundant career in which she never stopped expanding the notion of what a movie can be, Varda forged a unique cinematic vocabulary that frequently blurs the boundaries between narrative and documentary, and entwines loving portraits of her friends, her family, and her own inner world with a social consciousness that was closely attuned to the 1960s counterculture, the women's liberation movement, the plight of the poor and socially marginalized, and the ecology of our planet. This comprehensive collection places Varda's filmography in the context of her parallel work as a photographer and multimedia artist—all of it a testament to the radical vision, boundless imagination, and radiant spirit of a true original for whom every act of creation was a vital expression of her very being.
Agnès Forever — Varda by Agnès (2019), Les 3 boutons (2015) Early Varda — La Pointe Courte (1955), Ô saisons, ô châteaux (1958), Du côté de la côte (1958) Around Paris — Cléo from 5 to 7 (1962), Les fiancés du pont Macdonald (1962), L'opéra-mouffe (1958), Les dites cariatides (1984), T'as de beaux escaliers, tu sais (1986) Rue Daguerre — Daguerréotypes (1975), Le lion volatil (2003) Married Life — Le bonheur (1965), Les créatures (1966), Elsa la Rose (1966) In California — Uncle Yanco (1968), Black Panthers (1970), Lions Love (. . . and Lies) (1969), Mur Murs (1981), Documenteur (1981) Her Body, Herself — One Sings, the Other Doesn't (1977), Réponse de femmes (1975), Plaisir d'amour en Iran (1977) No Shelter — Vagabond (1985), 7 p., cuis., s. de b. . . . (à saisir) (1985) Jane B. — Jane B. par Agnès V. (1988), Kung-Fu Master! (1988) Jacques Demy — Jacquot de Nantes (1991), The Young Girls Turn 25 (1993), The World of Jacques Demy (1995) Simon Cinéma — One Hundred and One Nights (1995) La glaneuse — The Gleaners and I (2000), The Gleaners and I: Two Years Later (2002) Visual Artist — Faces Places, codirected with JR (2017), Salut les cubains (1964), Ulysse (1982), Ydessa, les ours et etc. . . . (2004) Here and There — Agnès de ci de là Varda (2011) Beaches — The Beaches of Agnès (2008)
Special Features:
- Short films: Les fiancés du pont Macdonald (1962), L'opéra-mouffe (1958), Les dites cariatides (1984), T'as de beaux escaliers, tu sais (1986)
- Remembrances (2005), a documentary on the making of the film, featuring interviews with Varda and actors Corinne Marchand and Antoine Bourseiller (1080i; 36:01)
- Gallery of paintings by Hans Baldung Grien, whose work inspired the character of Cléo
- Excerpt from a 1993 French television program featuring Madonna and Varda talking about the film (1080i; 2:24n)
- Cléo's Real Path Through Paris (2005), a short film retracing, on a motorcycle, Cléo's steps through Paris (1080i; 9:17)
- The Music of Michel Legrand (1080p; 9:38) a video essay by Tony Zhou and Taylor Ramos, made in 2016
- Theatrical trailer