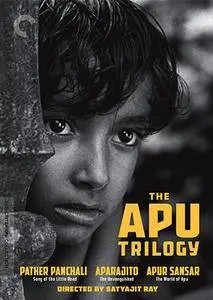 The Apu Trilogy (1955-1959) [Criterion Collection, Spine #782]
DVD Video, 3 x DVD9, Collector's Set | NTSC 4:3 | 720x480 | 2hr 05mn + 1hr 50mn + 1hr 46mn | 7.68 Gb + 7.69 Gb + 7.66 Gb
Bengali: Dolby AC3, 1 ch
Subtitles: English
Genre: Drama
Criterion.com
Director:
Satyajit Ray
Two decades after its original negatives were burned in a fire, Satyajit Ray's breathtaking milestone of world cinema rises from the ashes in a meticulously reconstructed new restoration. The Apu Trilogy brought India into the golden age of international art-house film, following one indelible character, a free-spirited child in rural Bengal who matures into an adolescent urban student and finally a sensitive man of the world. These delicate masterworks—Pather Panchali (Song of the Little Road), Aparajito (The Unvanquished), and Apur Sansar (The World of Apu)—based on two books by Bibhutibhusan Banerjee, were shot over the course of five years, and each stands on its own as a tender, visually radiant journey. They are among the most achingly beautiful, richly humane movies ever made—essential works for any film lover.
Pather Panchali (1955)
[Criterion Collection, Spine #783]
A depiction of rural Bengali life in a style inspired by Italian neorealism, this naturalistic but poetic evocation of a number of years in the life of a family introduces us to both little Apu and, just as essentially, the women who will help shape him.
Aparajito (1956)
[Criterion Collection, Spine #784]
As Apu progresses from wide-eyed child to intellectually curious teenager, eventually studying in Kolkata, we witness his academic and moral education, as well as the growing complexity of his relationship with his mother.
Apur Sansar (1959)
[Criterion Collection, Spine #785]
Apu is now in his early twenties, out of college, and hoping to live as a writer. Alongside his professional ambitions, the film charts his romantic awakening, which occurs as the result of a most unlikely turn of events, and his eventual, fraught fatherhood.


Title: TheApuTrilogy.PatherPanchali.55.Cr.D9
Size: 7.68 Gb ( 8 051 006,00 KBytes ) - DVD-9
Enabled regions: 1, 2, 3, 4, 5, 6, 7, 8

VTS_01 :
Play Length: 00:00:00
Video: NTSC 4:3 (720x480) VBR

VTS_02 :
Play Length: 02:05:45
Video: NTSC 4:3 (720x480) VBR
Audio:
Bengali (Dolby AC3, 1 ch)
Subtitles:
English

VTS_03 :
Play Length: 00:00:20
Video: NTSC 4:3 (720x480) VBR

VTS_04 :
Play Length: 00:07:13
Video: NTSC 16:9 (720x480) VBR, Auto Letterboxed
Audio:
Bengali (Dolby AC3, 1 ch)
Subtitles:
English

VTS_05 :
Play Length: 00:16:28
Video: NTSC 16:9 (720x480) VBR, Auto Letterboxed
Audio:
English (Dolby AC3, 1 ch)
Subtitles:
English

VTS_06 :
Play Length: 00:12:33
Video: NTSC 16:9 (720x480) VBR, Auto Letterboxed
Audio:
Bengali (Dolby AC3, 1 ch)
Subtitles:
English

VTS_07 :
Play Length: 00:05:55
Video: NTSC 4:3 (720x480) VBR
Audio:
English (Dolby AC3, 2 ch)

VTS_08 :
Play Length: 00:14:36
Video: NTSC 4:3 (720x480) VBR
Audio:
English (Dolby AC3, 1 ch)
Subtitles:
English

VTS_09 :
Play Length: 00:00:00
Video: NTSC 4:3 (720x480) VBR

–––––––––––––––––––––––––-

Title: TheApuTrilogy.Aparajito.56.Cr.D9
Size: 7.69 Gb ( 8 067 048,00 KBytes ) - DVD-9
Enabled regions: 1, 2, 3, 4, 5, 6, 7, 8

VTS_01 :
Play Length: 00:00:00
Video: NTSC 4:3 (720x480) VBR

VTS_02 :
Play Length: 00:00:20
Video: NTSC 4:3 (720x480) VBR

VTS_03 :
Play Length: 00:11:26
Video: NTSC 16:9 (720x480) VBR, Auto Letterboxed
Audio:
English (Dolby AC3, 1 ch)
Subtitles:
English

VTS_04 :
Play Length: 00:37:43
Video: NTSC 16:9 (720x480) VBR, Auto Letterboxed
Audio:
English (Dolby AC3, 1 ch)
Subtitles:
English

VTS_05 :
Play Length: 00:28:57
Video: NTSC 4:3 (720x480) VBR
Audio:
English (Dolby AC3, 1 ch)
Subtitles:
English

VTS_06 :
Play Length: 00:14:30
Video: NTSC 4:3 (720x480) VBR
Audio:
English (Dolby AC3, 1 ch)
Subtitles:
English

VTS_07 :
Play Length: 01:50:01
Video: NTSC 4:3 (720x480) VBR
Audio:
Bengali (Dolby AC3, 1 ch)
Subtitles:
English

VTS_08 :
Play Length: 00:00:00
Video: NTSC 4:3 (720x480) VBR

–––––––––––––––––––––––––-

Title: TheApuTrilogy.ApurSansar.59.Cr.D9
Size: 7.66 Gb ( 8 033 562,00 KBytes ) - DVD-9
Enabled regions: 1, 2, 3, 4, 5, 6, 7, 8

VTS_01 :
Play Length: 00:00:00
Video: NTSC 4:3 (720x480) VBR

VTS_02 :
Play Length: 01:46:08
Video: NTSC 4:3 (720x480) VBR
Audio:
Bengali (Dolby AC3, 1 ch)
Subtitles:
English

VTS_03 :
Play Length: 00:00:20
Video: NTSC 4:3 (720x480) VBR

VTS_04 :
Play Length: 00:15:06
Video: NTSC 16:9 (720x480) VBR, Auto Letterboxed
Audio:
Bengali (Dolby AC3, 1 ch)
Subtitles:
English

VTS_05 :
Play Length: 00:03:02
Video: NTSC 4:3 (720x480) VBR
Audio:
English (Dolby AC3, 1 ch)

VTS_06 :
Play Length: 00:43:30
Video: NTSC 16:9 (720x480) VBR, Auto Letterboxed
Audio:
Bengali (Dolby AC3, 1 ch)
Subtitles:
English

VTS_07 :
Play Length: 00:02:49
Video: NTSC 16:9 (720x480) VBR, Auto Letterboxed
Audio:
English (Dolby AC3, 2 ch)

VTS_08 :
Play Length: 00:12:30
Video: NTSC 16:9 (720x480) VBR, Auto Letterboxed
Audio:
English (Dolby AC3, 2 ch)

VTS_09 :
Play Length: 00:00:00
Video: NTSC 4:3 (720x480) VBR


Extras:
- Audio recordings from 1958 of director Satyajit Ray reading his essay "A Long Time on the Little Road" and in conversation with film historian Gideon Bachmann
- New interviews with actors Soumitra Chatterjee, Shampa Srivastava, and Sharmila Tagore; camera assistant Soumendu Roy; and film writer Ujjal Chakraborty
- Making "The Apu Trilogy": Satyajit Ray's Epic Debut, a new video essay by Ray biographer Andrew Robinson
- "The Apu Trilogy": A Closer Look, a new program featuring filmmaker, producer, and teacher Mamoun Hassan
- Excerpts from the 2003 documentary The Song of the Little Road, featuring composer Ravi Shankar
- The Creative Person: "Satyajit Ray," a 1967 half-hour documentary by James Beveridge, featuring interviews with Ray, several of his actors, members of his creative team, and film critic Chidananda Das Gupta
- Footage of Ray receiving an honorary Oscar in 1992
Thanks to original uploader