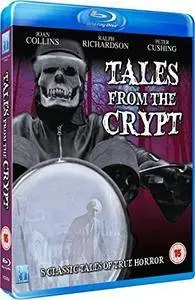 Tales from the Crypt (1972)
BDRip 720p | MKV | 1280x688 | x264 @ 5275 Kbps | English DTS 2.0 @ 1509 Kbps | 92 min | 4,37 Gb
Genre: Horror
Five people are trapped in a crypt and are shown their futures by the evil cryptkeeper. They are given the option of avoiding their fates - by avoiding living out the rest of their lives.
Five people wander off on a tour and come upon the crypt-keeper. Each tells his or her last memory. Each one confesses to doing something wrong. The crypt-keeper listens to each before telling the five what has happened to them and where they are. Easily this is one of the best Amicus horror anthologies. It is well-crafted, well-acted, and suitably directed by genre stalwart Freddie Francis. All of the stories are pretty good, with three standing out. The first story about Christmas and a loose killer is well-done and shocking for its day. The best story stars Peter Cushing as a genial old man suffering desolation and humiliation from a heart-less(no pun intended) neighbor. Cushing does a wonderful job here, and in a way it is a sad performance as it was made shortly after the death of his long-time wife Helen. The last story is almost as good about a group of blind residents who stop taking being treated poorly and give out punishment to a military man with razor-sharp justice. Patrick Magee and Nigel Patrick both excel in this little vignette. The frame story is also well-executed and Sir Ralph Richardson hams it up amicably as the keeper of the crypt. A great group of frightening stories…each with a moral of sorts.
(click to enlarge)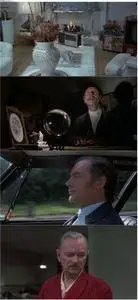 More in My Blog