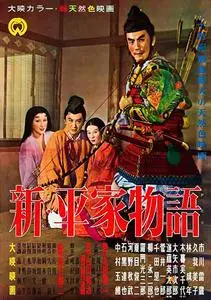 Taira Clan Saga (1955)
DVDRip | MKV | 720x478 | x264 @ 1572 Kbps | 117 min | 1,66 Gb
Audio: Japanese (日本語) AC3 2.0 @ 448 Kbps | Subs: English (embedded in MKV)
Genre: Drama
Director:
Kenji Mizoguchi
Writers:
Masashige Narusawa, Hisakazu Tsuji (as Kyûchi Tsuji)
Stars:
Narutoshi Hayashi, Raizô Ichikawa, Tatsuya Ishiguro
Special Forces commander Captain Tadamori returns to Kyoto after successfully defeating the uprising of pirates in the western sea of Japan. But because the high courtiers dislike career soldiers gaining power and influence, they ignore the will of ex-Emperor Toba and refuse to reward the captain. Reward recommender Lord Tokinobu is punished, and the captain sends his son Kiyomori to the Lord's residence, where he falls in love with Tokiko, the Lord's daughter. Meanwhile, Kiyomori finds out that he is possibly the ex-Emperor's son…
Quite different from most Mizoguchi - there isn't a female protagonist here - TAIRA CLAN SAGA (aka 'Shin Heike Monogatari') is a vivid period spectacle, perhaps most similar to his earlier masterpiece THE 47 RONIN. Working closer to Kurosawa territory, TAIRA CLAN SAGA depicts the tension between the corrupt court and the military class. Ethics, honor and loyalty are central themes, and Mizo's graceful style underscores this in classic fashion. While not quite the equal of Mizo's celebrated string of early-50s masterpieces, this is still a great film - very rarely seen in the US, and very much deserving of restoration and a wider audience. Fans of Kurosawa, Inagaki or Kobayashi's period epics would do well to seek this out.
(click to enlarge)
More in My Blog