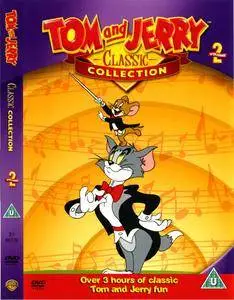 Tom and Jerry: Classic Collection. Volume 2. Disc 1 (1940-1945)
DVDRip | AVI | 13 x ~ 8mn | XVID, ~2,2 Mbps | 720x576 | 13 x ~ 140 MB
English: AC3, 1 ch, 192 Kbps
Subtitles: None
Genre: Animation, Comedy, Short

Tom and Jerry was created by William Hanna and Joseph Barbera, considered by many the greatest cartoonists in the history. This show has managed to become one of the most famous and influential shows in the history of cartoons.
This release includes 13 shorts.
Volume 2. Disc 1:
- Solid Serenade
- Cat Fishin
- Part Time Pal
- The Cat Concerto
- Dr Jekyll And Mr Mouse
- Salt Water Tabby
- A Mouse In The House
- The Invisible Mouse
- Kitty Foiled
- The Truce Hurts
- Old Rockin Chair Tom
- Professor Tom
- Mouse Cleaning