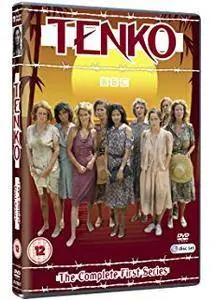 Tenko (1981) [Season 1]
DVD Video, 2 x DVD9 + 2 x DVD5 | 10 x ~ 0hr 51mn | PAL 16:9 | 720x576 | 23,4 Gb
English: Dolby AC3, 2 ch
Subtitle: English
Genre: Drama, War, Series
IMDB Rating: 8.8/10 (451 votes)
Year:
1981, 1982, 1984
Production Co:
British Broadcasting Corporation (BBC), Australian Broadcasting Commission (ABC)
Creator:
Lavinia Warner
Stars:
Ann Forrest Bell, Stephanie Cole, Claire Oberman
Three 10x55min series. The first series set in 1941, a group of English and Australian women from Singapore are shipwrecked while they try to escape the Japanese invasion. The survivors are captured and put in a prison camp. They and their Dutch companions must all make drastic adjustments to and discoveries about their lives. In the second series, the group is moved to a new camp with a completely new pecking order and a particularly vicious camp leader. At the beginning of the third series, the prisoners are liberated and must re-adjust themselves to live in Singapore, in the aftermath of the war.
Extras:
- Cast Filmographies
- The Tenko Story


Title: T1enk1o.S1.81.D9.D1
Size: 7.58 Gb ( 7 952 098,00 KBytes ) - DVD-9
Enabled regions: 1, 2, 3, 4, 5, 6, 7, 8

VTS_01 :
Play Length: 00:01:05
Video: PAL 16:9 (720x576) VBR, Auto Letterboxed
Audio:
English (Dolby AC3, 2 ch)

VTS_02 :
Play Length: 00:51:15+00:52:15+00:51:51+{02:35:21}
Video: PAL 4:3 (720x576) VBR
Audio:
English (Dolby AC3, 2 ch)
Subtitles:
English

–––––––––––––––––––––––––––-

Title: T1enk1o.S1.81.D9.D2
Size: 4.24 Gb ( 4 450 562,00 KBytes ) - DVD-5
Enabled regions: 1, 2, 3, 4, 5, 6, 7, 8

VTS_01 :
Play Length: 00:01:05
Video: PAL 16:9 (720x576) VBR, Auto Letterboxed
Audio:
English (Dolby AC3, 2 ch)

VTS_02 :
Play Length: 00:53:01+00:51:58+{01:44:59}
Video: PAL 4:3 (720x576) VBR
Audio:
English (Dolby AC3, 2 ch)
Subtitles:
English

–––––––––––––––––––––––––––-

Title: T1enk1o.S1.81.D9.D3
Size: 7.52 Gb ( 7 889 854,00 KBytes ) - DVD-9
Enabled regions: 1, 2, 3, 4, 5, 6, 7, 8

VTS_01 :
Play Length: 00:01:05
Video: PAL 16:9 (720x576) VBR, Auto Letterboxed
Audio:
English (Dolby AC3, 2 ch)

VTS_02 :
Play Length: 00:51:28+00:50:38+00:52:06+{02:34:11}
Video: PAL 4:3 (720x576) VBR
Audio:
English (Dolby AC3, 2 ch)
Subtitles:
English

–––––––––––––––––––––––––––-

Title: T1enk1o.S1.81.D9.D4
Size: 4.13 Gb ( 4 328 036,00 KBytes ) - DVD-5
Enabled regions: 1, 2, 3, 4, 5, 6, 7, 8

VTS_01 :
Play Length: 00:01:05
Video: PAL 16:9 (720x576) VBR, Auto Letterboxed
Audio:
English (Dolby AC3, 2 ch)

VTS_02 :
Play Length: 00:51:19+00:50:39+{01:41:58}
Video: PAL 4:3 (720x576) VBR
Audio:
English (Dolby AC3, 2 ch)
Subtitles:
English


Thanks to original uploader