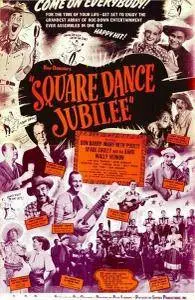 Square Dance Jubilee (1949)
English | DVDRip | AVI | 640x480 | XviD @ 1271 kb/s | 798 MB
Audio: MP3 @ 70.5 kb/s | 1 channel | 01:18:33 minutes
Genre: Musical, Western
In the early days of television, Don Blake and partner Sam are sent west to look for musicians and singers for the TV show Square Dance Jubilee. In their search they run into a gang of rustlers that change brands and then sell the cattle. The gang plans their next raid when the whole county is in town for the TV broadcast of the local talent. But Don and Sam are on to the rustlers and are ready.