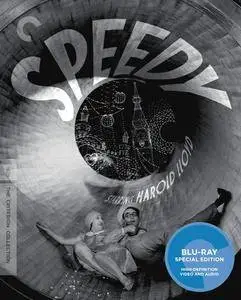 Speedy / Гонщик (1928)[Criterion Collection, Spine #788]
Blu-Ray | BDMV | AVC, 1920x1080, ~34.9 Mbps | 1hr 26mn | 43,9 GB
English: LPCM Audio, 2 ch, 2304 kbps
Subtitles: English Intertitles
Genre: Action | Comedy | Family
IMDB Rating: 7.7/10 (1.880 votes)
Criterion.com
Director:
Ted Wilde
Writers:
John Grey, Lex Neal
Stars:
Harold Lloyd, Ann Christy, Bert Woodruff
"Speedy" loses his job as a soda-jerk, then spends the day with his girl at Coney Island. He then becomes a cab driver and delivers Babe Ruth to Yankee Stadium, where he stays to see the game. When the railroad tries to run the last horse-drawn trolley (operated by his girl's grandfather) out of business, "Speedy" organizes the neighborhood oldtimers to thwart their scheme.
Extras:
- Audio commentary, recorded for the Criterion Collection in 2015, features Bruce Goldstein, director of repertory programming at New York's Film Forum, and Scott McGee, director of program production at Turner Classic Movies
- In The Footsteps OF "Speedy"
- Babe Ruth
- Narrated Stills: Deleted Scenes
- Home Movies
- Bumping Into Broadway


DISC INFO:

Disc Title: Speedy.28.BR.Cr
Disc Size: 47 156 436 012 bytes
Protection: AACS
BD-Java: Yes
BDInfo: 0.5.8

PLAYLIST REPORT:

Name: 00001.MPLS
Length: 1:26:22.969 (h:m:s.ms)
Size: 26 834 343 936 bytes
Total Bitrate: 41,42 Mbps

VIDEO:

Codec Bitrate Description
––- –––- –––––-
MPEG-4 AVC Video 34913 kbps 1080p / 23,976 fps / 16:9 / High Profile 4.1

AUDIO:

Codec Language Bitrate Description
––- –––– –––- –––––-
LPCM Audio English 2304 kbps 2.0 / 48 kHz / 2304 kbps / 24-bit
LPCM Audio English 2304 kbps 2.0 / 48 kHz / 2304 kbps / 24-bit

––––––––––––––––––––––––––––––-