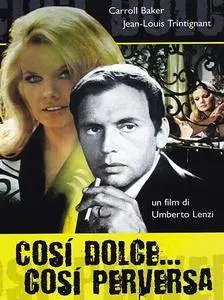 So Sweet… So Perverse (1969)
DVDRip | AVI | 720x304 | XviD @ 1681 Kbps | English dub AC3 2.0 @ 192 Kbps | 93 min | 1,23 Gb
Genre: Mystery, Thriller
Director:
Umberto Lenzi
Writers:
Massimo D'Avak (story adaptation), Ernesto Gastaldi (screenplay)
Stars:
Carroll Baker, Jean-Louis Trintignant, Erika Blanc
Jean, a French businessman's life is forever changed when he overhears a brutal attack. Upon further investigation, he is introduced to the beautiful Nicole, a naive woman at the mercy of her vicious husband. With nothing to lose, Jean takes her away, and love blooms immediately. However, he may have got himself more involved than he bargained and The 'supposed love affair' leads him down a dark road of grief, greed and murder.
Great title and if not particularly appropriate for the film, no matter, for this is a fine film. Carroll Baker, excellent as ever, although she does keep herself fairly well covered here and not always in the most stunning of outfits, Jean-Louis Trintignant does pretty much what he always does, well and Erika Blanc puts in a very strong performance. Solid directing by Lenzi, might have been stylish but pan and scan print ensures it does not appear so, and for the first half we have a rather fun, colourful and bright story of an extramarital affair. Things change, however, just as we begin to wonder if all is as it seems things change very much indeed. Hardly any blood or bare skin for that matter but a most involving tale, exceedingly well told, that certainly starts to flip about towards the end. Indeed until the very end!
(click to enlarge)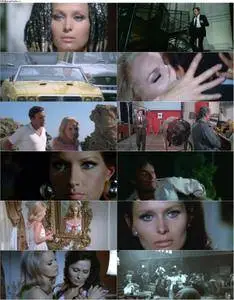 More in My Blog