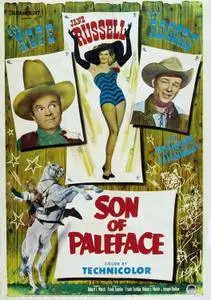 Son of Paleface (1952)
HDDVD-Rip 720p | MKV | 1280 x 720 | x264 @ 2560 Kbps | 1h 34mn | 1,83 Gb
Audio: English AC3 2.0 @ 192 Kbps | Subtitles: None
Genre: Comedy, Romance, Western | Director: Frank Tashlin
Junior Potter returns to claim his father's gold, which is nowhere to be found. "Mike" is the luscious head of a gang of thieves, and Roy Barton is the federal marshal hot on her trail.
IMDB
- Nominated for 1 Oscar
This hilarious western spoof is wickedly funny, marvellously self-aware, and doesn't want to admit to knowing the meaning of the fourth wall.

Hope works well with Roy Rogers–and of course Jane Russel is a sight not to be missed. Personally, I liked her better in the raider get-up, fully ensconsed in her role as villain. She keeps us guessing right up till the end whether she's going to shoot Hope or kiss him. What a movie!

I can't tell you any of the gags, or any of the string of one liners Bob Hope starts the movie with and doesn't let up with at all, ever. It would just hurt you too much.

If you haven't seen this movie and think would like to, go watch it. If you consider Bob Hope unfunny, and long for subtler entertainment, go set your pants on fire, you philistine, and give yourself some culture.
(Enlargeable)