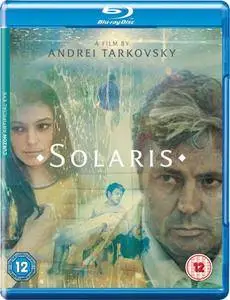 Director:
Andrey Tarkovskiy
Writers:
Stanislaw Lem (novel) (as Stanislav Lem), Fridrikh Gorenshteyn (screenplay) (as F. Gorenshteyn)
Stars:
Natalya Bondarchuk, Donatas Banionis, Jüri Järvet
The Solaris mission has established a base on a planet that appears to host some kind of intelligence, but the details are hazy and very secret. After the mysterious demise of one of the three scientists on the base, the main character is sent out to replace him. He finds the station run-down and the two remaining scientists cold and secretive. When he also encounters his wife who has been dead for ten years, he begins to appreciate the baffling nature of the alien intelligence.
Название:
Солярис
Год выпуска:
1972
Жанр:
Фантастика, драма
Выпущено:
Россия, СССР
Режиссер:
Андрей Тарковский
В ролях:
Наталья Бондарчук, Донатас Банионис, Юри Ярвет, Владислав Дворжецкий, Николай Гринько, Анатолий Солоницын, Ольга Барнет, Виталик Кердимун, Ольга Кизилова, Татьяна Малых
О фильме:
На космическую станцию, сотрудники которой давно и тщетно пытаются сладить с загадкой планеты Солярис, покрытой Океаном, прибывает новый обитатель, психолог Крис Кельвин, чтобы разобраться в странных сообщениях, поступающих со станции, и «закрыть» ее вместе со всей бесплодной «соляристикой». Поначалу ему кажется, что немногие уцелевшие на станции ученые сошли с ума. Потом он и сам становится жертвой жуткого наваждения: ему является его бывшая возлюбленная Хари, некогда на земле покончившая с собой.


DISC INFO:

Disc Title: Solyaris.72.BR1
Disc Size: 41 878 659 888 bytes
Protection: AACS
BD-Java: No
BDInfo: 0.5.8

PLAYLIST REPORT:

Name: 00000.MPLS
Length: 2:46:32.983 (h:m:s.ms)
Size: 41 522 454 528 bytes
Total Bitrate: 33,24 Mbps

VIDEO:

Codec Bitrate Description
––- –––- –––––-
MPEG-4 AVC Video 29999 kbps 1080p / 23,976 fps / 16:9 / High Profile 4.1

AUDIO:

Codec Language Bitrate Description
––- –––– –––- –––––-
LPCM Audio English 1536 kbps 2.0 / 48 kHz / 1536 kbps / 16-bit

SUBTITLES:

Codec Language Bitrate Description
––- –––– –––- –––––-
Presentation Graphics English 18,585 kbps

––––––––––––––––––––––––––––––-


Contens Bonus Blu-Ray:
- Andrei Tarkovsky`s Metaphysical Dream Zone An introduction By Mary Wild
- Andrei Tarkovsky`s Metaphysical Dream Zone - Part 3
- Interview With N. Bondarchuk
- Master From A Little City - Donatas Banionis Featurete