The Snow Woman (1968)
DVDRip | MKV | 720x368 | x264 @ 1228 Kbps | 79 min | 808 Mb
Audio: Japanese (日本語) AC3 2.0 @ 192 Kbps | Subs: English, Русский
Genre: Horror, Fantasy
Director:
Tokuzô Tanaka
Writer:
Fuji Yahiro
Stars:
Shiho Fujimura, Akira Ishihama, Machiko Hasegawa
A master sculptor and his apprentice are trapped in a bad snow storm after finding a special tree for carving a statue for the local temple. Finding refuge in an abandoned hut they celebrate their luck in finding the tree but soon they are visited by the Snow Witch who freezes the sculptor to death but takes pity on the apprentice. He must promise to never speak of this or she'll return and kill him.
While the painterly method this story is told in Kwaidan is well-known and appreciated, here the story is accomplished with very careful lighting effects and lens filters. In some ways this is a much more beautiful telling of the story. Akira Ikufube provides a familiar yet unique score. Aside from a couple of clumsy spots in the script and the actor playing the apprentice underplays his part, this is an excellent film.
(click to enlarge)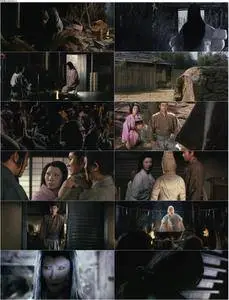 More in My Blog