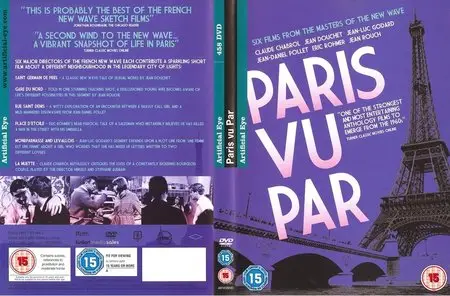 Six in Paris (1965)
DVD9 | VIDEO_TS | PAL 4:3 | 01:32:58 | 5,58 Gb
Audio: Français AC3 2.0 @ 192 Kbps | Subs: English
Genre: Art-house, Comedy, Drama
Directors:
Claude Chabrol (segment "La Muette"), Jean Douchet (segment "Saint-Germain-des-Prés"), Jean-Luc Godard (segment "Montparnasse-Levallois"), Jean-Daniel Pollet (segment "Rue Saint-Denis"), Eric Rohmer (segment "Place de l'Étoile")
Jean Rouch (segment "Gare du Nord")
Stars:
Jean-Pierre Andréani, Stéphane Audran, Nadine Ballot etc
Six vignettes set in different sections of Paris, by six directors. St. Germain des Pres (Douchet), Gare du Nord (Rouch), Rue St. Denis (Pollet), and Montparnasse et Levallois (Godard) are stories of love, flirtation and prostitution; Place d'Etoile (Rhomer) concerns a haberdasher and his umbrella; and La Muette (Chabrol), a bourgeois family and earplugs.
Saint-Germain-des-Prés: Jean Douchet. A young American girl (Barbara Wilkin) speaks of romantic dreams when she's picked up and bedded by a handsome art student. But the morning brings a number of rude surprises.

Gare du Nord: Jean Rouch. This deceptive long-take piece begins in a crowded apartment with a disenchanted young wife (Nadine Ballot) giving her husband (Barbet Schroeder) grief for his lack of ambition. In the street she meets a charming, persistent stranger (Gilles Quéant) who won't take No for an answer.

Rue Saint-Denis: Jean-Daniel Pollet. A woefully anonymous young bachelor (Claude Melke) takes a sarcastic prostitute (Michelline Dax) back to his apartment, and listens patiently while she goads and belittles him.

Place de l'Étoile: Eric Rohmer. A fastidious clerk in a men's store (Jean-Michel Rouzière) must each day cross a busy traffic hub around the Arch of Triumph. One day he has an altercation with another pedestrian, and knocks him to the ground. The clerk walks away, but is soon convinced he'll be arrested for murder.

Montparnasse & Levallois: Jean-Luc Godard. A neurotic girl (Joanna Shimkus) accidentally mixes up the notes she sends to her fiancé and her lover, and then visits each of them to explain before the letters arrive.

La Muette: Claude Chabrol. Disgusted by the rancor between his mother (Stéphane Audran) and father (Claude Chabrol), a young boy (Gilles Chusseau) plugs up his ears to shut out the noise. Neither parent notices.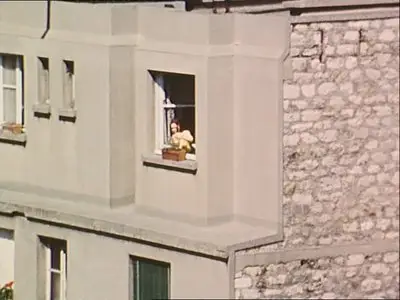 A city is a living entity with a pulse, and to capture its true character requires multiple points of view, encompassing different neighborhoods and lifestyles. This was certainly part of what made last year's Paris, Je T'aime so invigorating, how it allowed a large collective of artists to give their individual impressions of Paris. So, too, in 1965 did producer Barbet Schroeder recruit a sextet of the best and brightest of French cinema to make Six in Paris, an anthology film with entries from Jean Douchet, Jean Rouch, Jean-Daniel Pollet, Eric Rohmer, Jean-Luc Godard, and Claude Chabrol.




Each filmmaker picks a neighborhood and each takes approximately fifteen minutes to share a story out of that neighborhood. A pair of them, Douchet and Rohmer, add a little extra historical context to their stories, shooting the beginning of the segments like tourism videos, but the rest dig right in and get to work. There is no unifying theme to the six pieces, though they are all linked by their humanist concerns. Even when we are shown images of the area, the background is dropped rather quickly to move inside and meet the people who give the neighborhoods their character. Most of the stories involve couples, all of them wrestling with their private desires and the quiet desperation of everyday life. Only Rohmer breaks from the model, showing his lonely sales clerk (Jean-Michel Rouziere) wandering through the center of Paris without making any real connections. Chabrol follows suit, after a fashion, with his concluding piece, "La Muette," focusing on the child (Gilles Chusseau) of a battling couple and the isolation the boy imposes on himself to escape their constant bickering. Chabrol's, like many of the other pieces, is darkly comic, satirizing the violence and lust lurking in suburban homes. Jean-Daniel Pollet also gives us a little taste of the tragedy inherent in comedy, and his "Rue Saint-Denis" one-act shows a sexually naive dishwasher (Claude Melki, whose long face and wide eyes make him look like Buster Keaton) having a domestic night in with a world-weary prostitute (Micheline Dax).




Of the six, though, my favorites are the second and the second to last. Jean Rouch's "Gare du Nord" features two parallel conversations in one morning. A young newlywed couple for whom the honeymoon has rapidly passed begin their day arguing over the urban sprawl that is threatening to box them in. The wife, Odile (Nadine Ballot), worries that the construction that is going on across the street from their high-rise apartment will soon bar them from seeing the rest of Paris from their window. Her indifferent husband (Barbet Schroeder) doesn't necessarily deny the problem, but his willingness to accept what he believes he cannot change points to a future of quiet complicity that seems stifling. Yet, out on the street, when Odile meets an intriguing stranger (Gilles Queant), her failure to snatch an opportunity for adventure looks equally as hopeless to him.




Jean-Luc Godard takes the fifth position, and his "Montparnasse & Levallois" has its origins in a story Jean-Paul Belmondo's character relates in A Woman is a Woman. Shot by well-known documentary filmmaker Albert Maysles, this short has the look of a news item while still having some of the telltale stylistically reflexive signs of your average Godard film. To start, the opening shots, which feature the first real silence of Six in Paris despite showing a busy Parisian street, are typical of Godard's approach to audio, with music coming in and out at seemingly random intervals and the live sound of city activity overtaking dialogue the way it would in real life. So, too, do the extended, uncut shots here and in "Gare du Nord" give them a stronger connection to an actual "happening." The narrative involves a young woman (Joanna Shimkus) with two lovers, one of whom she intends to break it off with, the other whom she really loves. Having accidentally mixed up the telegrams she meant to send each, she goes out to do some damage control, only to find the men's reactions are not everything she hoped. For all of the artistic conceits at play, Godard manages to create the most emotional resonance of any of the segments of the movie, while at the same time creating another of his sophisticated metaphors for the connection between art and industry. Both of the girl's lovers have jobs that involve working with metal–one creates art out of industrial products, the other creates industrial products (cars) with the passion of an artist. Neither is better or worse than the other, and both men end up feeling the same thing toward their two-timing girlfriend, fascinatingly seeing love as clear-cut and one-dimensional in direct opposition to the more encompassing approach they take in their vocations.




Though the directors make no attempt to unify their episodes, Six in Paris works as a cohesive piece of cinema in a manner that most anthology films rarely achieve. Instead of being the usual mixed bag of unrelated shorts, where viewers like one or two but not so much the rest, one can watch Six in Paris straight through and enjoy it in total. The travels it takes across the map of the city ends up relating the emotional topography of the Parisian citizenry, defying class and cultural definition to remind us that when it comes down to it, our basic life requirements are generally the same. Likewise, different artists with the same concerns can arrive at remarkably similar landing points despite the varied routes they take or their mode of travel.




One of the better examples of anthology film I've seen, Six in Paris is Highly Recommended. The 1965 portrait of the City of Light gives six French New Wave directors the assignment of telling a story in a specific neighborhood, and the result is a surprisingly cohesive collection of stories about the kinds of folks who make up any city's populace. Seeing that people are the same regardless of what side of the street they live on, the six filmmakers remind us that, for all of our differences, we're more alike than we often remember.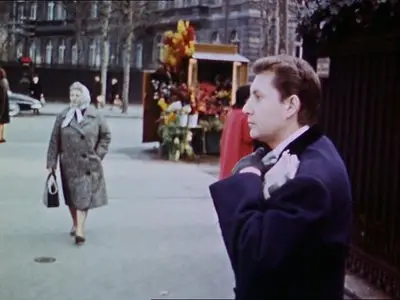 Special Features:
Bonus Trailers:
- "Three Colours: Blue"
- "Three Colours: Red"
- "Three Colours: White"
- "Under the Sand"
- "The Beat That My Heart Skipped"
Many Thanks to Original uploader.