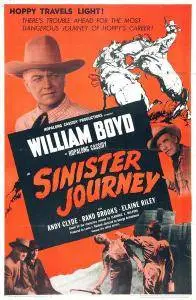 Sinister Journey (1948)
English | DVDRip | AVI | 640x480 | XviD @ 1292 kb/s | 600 MB
Audio: MP3 @ 105 kb/s | 2 channels | 00:59:30 minutes
Genre: Action, Adventure, Western
Having trouble, railroad executive Tom Smith sends for Hoppy. Two of Smith's employees, Roberts and Banks are after his money. First Roberts shoots Smith and leaves a hobo's scarf claiming Lee Garvin paid the hobo to do it. When Lee goes to see the recovered Smith, Roberts shoots him again and says Lee did it. This time Smith is dead and with everyone looking for Lee, Hoppy knowing he is innocent has a plan that will clear him.