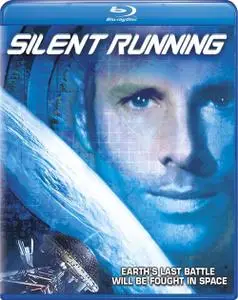 Silent Running (1972) + Extras
BRRip 720p | MKV | 1280 x 694 | x264 @ 2048 Kbps | 1h 29mn | 1,48 Gb + 789 Mb
Audio: English AC3 2.0 @ 160 Kbps + Commentary track | Subtitles: English
Genre: Drama, Sci-Fi | Director: Douglas Trumbull
After the end of all botanical life on Earth, ecologist Freeman Lowell (Bruce Dern) maintains a greenhouse on a space station in order to preserve various plants for future generations. Assisted by three robots and a small human crew, Lowell rebels when he is ordered to destroy the greenhouse in favor of carrying cargo, a decision that puts him at odds with everyone but his mechanical companions. Lowell and his robots are forced to do anything necessary to keep their invaluable greenery alive.
(Enlargeable)

Audio Commentary:
Director Douglas Trumbull and Star Bruce Dern discuss the film in a track recorded in the year 2000. Discussions include the picture's budget, shooting schedule, casting and performances, costumes and sets, anecdotes from the set, visual effects, the drones, characterization, and much more. It's fairly technical in nature but at the same time accessible.
Extras:
–
The Making of Silent Running
(49:15): A detailed look at shooting on the real Valley Forge after her decommission, budget, the process of the shoot, story and themes, the robotic characters, set construction, the photographic process, cast and performances, crafting specific scenes, model work, the environment-centric plot, and music.
–
Silent Running by Douglas Trumbull
(30:09): The director discusses project's origins, its evolution, his work history, the title, the picture's budget, casting, the drones, working on the real Valley Forge, the dome environment, the shooting process and working within budget and schedule, visual effects, music, and the film's legacy.
–
A Conversation with Bruce Dern
(10:57): The actor discusses his career prior to the role as Freeman Lowell, the film's visual effects, the film's story and themes, the film's legacy, and more.
–
Douglas Trumbull: Then and Now
(5:52): The director discusses the movie industry at the time of Silent Running, his ideas for the medium, and his work on the Back to the Future ride.