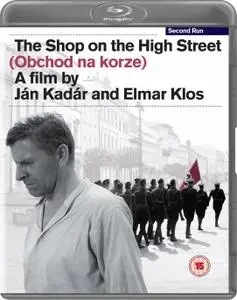 The Shop on Main Street (1965)
BDRip 720p | MKV | 988x720 | x264 @ 5975 Kbps | 125 min | 5,80 Gb
Audio: Slovenčina AC3 2.0 @ 640 Kbps | Subs: English (embedded)
Genre: Drama, War
Directors
: Ján Kadár, Elmar Klos
Writers
: Ladislav Grosman (screenplay), Ladislav Grosman (story)
Stars
: Ida Kaminska, Jozef Kroner, Hana Slivková
Slovakia during WW2. Tono lives a poor life, but the authorities offer him to take over the Jewish widow Lautman's little shop for sewing material. She is old and confused and thinks that he is only looking for employment and hires him. The odd couple begin to like each other. But some time later the authorities decide that the Jews must leave the city. What should he do with the old lady?
IMDB
- Won 1 Oscar + Another 6 wins
This is one of the most elegantly crafted and powerful movies relating to the Holocaust that I have ever seen.

As the editor and publisher of the memoir of a Jewish Holocaust survivor from Slovakia, I can aver that this movie is achingly true to life. The film's setting could be this woman's hometown. Like Mrs. Lautmann in the movie, this woman had lived behind one of the family's shops on her hometown's Main Street and her family's properties were seized during the Aryanization depicted in this movie.

How the writer, director, and actors of this seemingly small film were able to condense and convey so much of the socio-economic and political tenor of that time and place, with such acumen, dark humor, and pathos is astounding.

It seamlessly moves toward an inexorable conclusion, with each successive scene leading the viewer deeper into the world of the two protagonists and reeling from the truths that the filmmakers expertly offer up.

It is days after viewing it, and still, I cannot shake this movie.
(click to enlarge)

More in My Blog