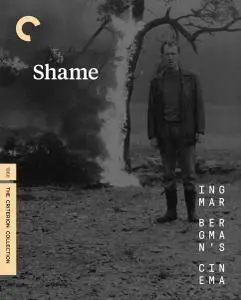 Shame / Skammen (1968) [Criterion Collection, #961]
DVD Video | NTSC 4:3 | 720x480 | 1hr 43mn | 7.29 Gb
Swedish: Dolby AC3, 1 ch | Subtitles: English
Genre: Drama
IMDB Rating: 8.0/10 (10.055 votes)
Director:
Ingmar Bergman
Writers:
Ingmar Bergman
Stars:
Liv Ullmann, Max von Sydow, Sigge Fürst
Extras:
- Interviews with director Ingmar Bergman and a brief excerpt from a press conference for the film, recorded in 1967 and '68 for Swedish television
- New interview with actor Liv Ullmann
- An Introduction to Ingmar Bergman, a 1968 documentary made during the film's production, featuring an extensive interview with Bergman
- New English subtitle translation
Ingmar Bergman's Shame is at once an examination of the violent legacy of World War II and a scathing response to the escalation of the conflict in Vietnam. Max von Sydow and Liv Ullmann star as musicians living in quiet retreat on a remote island farm, until the civil war that drove them from the city catches up with them there. Amid the chaos of the military struggle, vividly evoked by pyrotechnics and by Sven Nykvist's handheld camera work, the two are faced with impossible moral choices that tear at the fabric of their relationship. This film, which contains some of the most devastating scenes in Bergman's oeuvre, shows the impact of war on individual lives.


Title: Shame.68.Cr.D9
Size: 7.29 Gb ( 7 643 110,00 KBytes ) - DVD-9
Enabled regions: 1, 2, 3, 4, 5, 6, 7, 8

VTS_01 :
Play Length: 00:00:00
Video: NTSC 16:9 (720x480) VBR, Auto Letterboxed

VTS_02 :
Play Length: 01:43:38
Video: NTSC 4:3 (720x480) VBR
Audio:
Svenska (Dolby AC3, 1 ch)
Subtitles:
English

VTS_03 :
Play Length: 00:00:20
Video: NTSC 16:9 (720x480) VBR, Auto Pan&Scan

VTS_04 :
Play Length: 00:14:31
Video: NTSC 16:9 (720x480) VBR, Auto Letterboxed
Audio:
Svenska (Dolby AC3, 1 ch)
Subtitles:
English

VTS_05 :
Play Length: 00:05:20
Video: NTSC 16:9 (720x480) VBR, Auto Letterboxed
Audio:
Svenska (Dolby AC3, 1 ch)
Subtitles:
English

VTS_06 :
Play Length: 00:21:00
Video: NTSC 16:9 (720x480) VBR, Auto Letterboxed
Audio:
English (Dolby AC3, 1 ch)
Subtitles:
English

VTS_07 :
Play Length: 01:12:22
Video: NTSC 4:3 (720x480) VBR
Audio:
English (Dolby AC3, 1 ch)

VTS_08 :
Play Length: 00:00:00
Video: NTSC 16:9 (720x480) VBR, Auto Letterboxed


All thanks to the original uploader