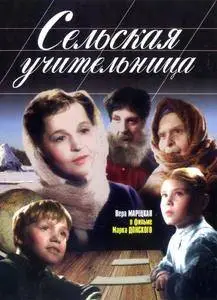 Selskaya uchitelnitsa / The Village Teacher (1947)
Russian | DVDRip | MKV | 688x570 | AVC @ 2135 kb/s | 1.79 GB
Audio: AC-3 @ 448 kb/s | 6 channels | 01:38:16 minutes
Subs: English, French, Spanish, Italian, German, Russian (embedded)
Genre: Drama
Eve of the First World War. After graduating from high school in St. Petersburg, Varya is going to teach peasant children. Severely meets a young teacher remote village. It appears serving in Siberia term friend in St. Petersburg - a Bolshevik Martynov. Varya to marry him, but soon he was again arrested. After the revolution, Martynov will die on the post of Commissioner, it is a tough test in the struggle against the kulaks. Ends film end of the Second World War.
Vera Maretskaya ("Marriage"), Rostislav Plyatt ("Seventeen Moments of Spring"), Daniil Sagal "The Childhood of Maxim Gorky", Vladimir Belokurov ("Valery Chkalov"), Alexei Konsovsky ("Cinderella") in the famous film by the classic of world cinema Mark Donskoy."I'll teach you to dream, " said the film's heroine to the children starting their life. In 1984 this promise became the name of a documentary by G. Chukhrai, Yu. Shvyryov and M. Volotsky about the life of one of a kind poet and hero of the national cinema, Mark Donskoy. The Italian neo-realists believed that their art originated from the "flow of life" typical of Donskoy's films, considered the director their predecessor and emulated his poetic approach to everyday life. In the early 1970s Mark Donskoy's name was included in the West in a number of lists of the best film directors of modern time.