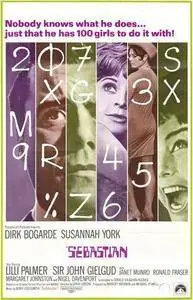 Sebastian (1968)
DVDRip | AVI | 512x384 | XviD @ 1119 Kbps | 99 min | 896 Mb
Audio: English MP3 @ 128 Kbps | Subs: English (srt)
Genre: Drama, Romance
Director:
David Greene
Writers:
Leo Marks (original screen story), Gerald Vaughan-Hughes (screenplay)
Stars:
Dirk Bogarde, Susannah York, Lilli Palmer
This little outing is nothing if not bizarre. A girl-about-town gets an honest job at a sort of decoding pool at MI5 (or 6, but who's counting). Everything is set for a twisty and clever cold war thriller, and then suddenly we plunge into comedy as she gets romanced by her boss, then we switch to a relationship drama as things don't go smoothly between them (they quarrel about the colour scheme of his apartment, very Pinteresque), then there's a not-very-thrilling conspiracy sub-plot for all of five minutes, and then, several genres later, it all ends in a Douglas Sirk melodrama with a touch of Monty Python. Truly ahead of its time. OK, it's got Susannah York and Dirk Bogarde in it, and it was produced by Michael Powell and written by Leo Marks, so what more do you want.
Covers an area of espionage seldom seen in spy movies: cryptography and cryptoanalysis. The whole production is given a faint brush of the surreal and it works, especially with Dirk Bogarde's performance as the title character driven by obsessions (and often overwhelmed by them). That the film also manages to work on an occasional comedic level is an additional tribute to all concerned. Keep your eyes open for a pre-M*A*S*H appearance by Donald Sutherland.
(click to enlarge)

More in My Blog