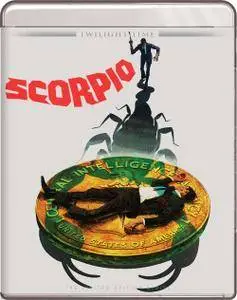 Scorpio (1973)
BDRip 720p | MKV | 1280 x 720 | x264 @ 2560 Kbps | 1h 54mn | 2,33 Gb
Audio: English AC3 1.0 @ 160 Kbps + Commentary track | Subtitles: English
Genre: Action, Drama, Thriller | Director: Michael Winner
Cross is an old hand at the CIA, in charge of assassinating high-ranking foreign personalities who are an obstacle to the policies of the USA. He often teams up with Frenchman Jean Laurier, alias "Scorpio", a gifted free-lance operative. One day, the CIA orders Scorpio to eliminate Cross – and leaves him no choice but to obey. Scorpio is cold-blooded and very systematic; however, as a veteran agent, Cross knows many tricks. He can also rely upon a network of unusual personal contacts, some dating back to the troubled years preceding WWII. A lethal game of hide-and-seek is programmed, but what are the true motives of every single player?
Back in the 1970s when Capitalism and Communism were fighting the cold war with undercover activities, a film such as this was able to play on our fears of the "good" guys as well as the "bad" guys. So, along with Burt Lancaster's aging C.I.A. agent, Cross, we can't know whom to trust. We like Burt, but we also like Alain Delon (Scorpio) the free agent assigned to assassinate him. We loathe John Colicos as the C.I.A. chief, yet he's supposedly working for our side. We like Paul Scofield's Zharkov, yet he's a commie. (Indeed, Scofield who is a master of cold characters has never been so charming.) The film offers great action scenes as well as unmitigated suspense. There is a superlative cast, and a lot of surprises. (Burt ain't named Cross for nothin'.) If you are a fan of thrillers, or even you aren't, this one's a must see!
(Enlargeable)

Audio Commentary
with Film Historians Lem Dobbs, Julie Kirgo, and Nick Redman