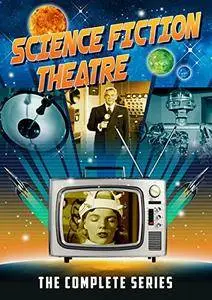 Science Fiction Theatre (1955–1957) [The Complete Series]
DVD Video, 8 x DVD9 | ~ 1950 minutes | NTSC 4:3 | 720x480 | ~ 57,0 GB
English: Dolby AC3, 2 ch
Subtitles: None
Genre: Drama, Sci-Fi, Series
IMDB Rating: 8.5/10 (238 votes)
Stars:
Truman Bradley, Marshall Thompson, Michael Fox
Blending the discoveries of factual science with the limitless frontiers of fantasy, Science Fiction Theatre offered Atomic Age television viewers an intriguing look at the possibilities science could provide us in the near future as well as the immediate present. Airing from 1955 to 1957 and hosted by Truman Bradley, Science Fiction Theatre's seventy-eight episodes presented its intelligent and fantastic stories in an anthology format, pre-dating The Twilight Zone and The Outer Limits.
Guest stars on this unique program feature a roster of actors well-known to any lover of classic film and television, including DeForest Kelley (Star Trek), Hugh Beaumont (Leave It To Beaver) Barbara Hale (Perry Mason) Gene Barry (The War of the Worlds, Burke's Law), Macdonald Carey, Edmund Gwenn (Miracle on 34th Street), Beverly Garland, Basil Rathbone, June Lockhart (Lost In Space), and the great Vincent Price.
Presented for the first time on DVD, this complete series collection of Science Fiction Theatre is an entertaining look - back and forward - to the way science shapes our views of the world's potential.


Title: ScienceFictionTheatre.55.D9.D1
Size: 7.34 Gb ( 7 701 110,00 KBytes ) - DVD-9
Enabled regions: 1, 2, 3, 4, 5, 6, 7, 8

VTS_01 :
Play Length: 00:00:28
Video: NTSC 16:9 (720x480) VBR, Auto Pan&Scan
Audio:
Not specified (Dolby AC3, 2 ch)

VTS_02 :
Play Length: 00:26:01
Video: NTSC 4:3 (720x480) VBR
Audio:
Not specified (Dolby AC3, 2 ch)

VTS_03 :
Play Length: 00:25:52
Video: NTSC 4:3 (720x480) VBR
Audio:
Not specified (Dolby AC3, 2 ch)

VTS_04 :
Play Length: 00:26:05
Video: NTSC 4:3 (720x480) VBR
Audio:
Not specified (Dolby AC3, 2 ch)

VTS_05 :
Play Length: 00:26:05
Video: NTSC 4:3 (720x480) VBR
Audio:
Not specified (Dolby AC3, 2 ch)

VTS_06 :
Play Length: 00:26:04
Video: NTSC 4:3 (720x480) VBR
Audio:
Not specified (Dolby AC3, 2 ch)

VTS_07 :
Play Length: 00:26:04
Video: NTSC 4:3 (720x480) VBR
Audio:
Not specified (Dolby AC3, 2 ch)

VTS_08 :
Play Length: 00:26:03
Video: NTSC 4:3 (720x480) VBR
Audio:
Not specified (Dolby AC3, 2 ch)

VTS_09 :
Play Length: 00:26:04
Video: NTSC 4:3 (720x480) VBR
Audio:
Not specified (Dolby AC3, 2 ch)

VTS_10 :
Play Length: 00:25:55
Video: NTSC 4:3 (720x480) VBR
Audio:
Not specified (Dolby AC3, 2 ch)

VTS_11 :
Play Length: 00:26:06
Video: NTSC 4:3 (720x480) VBR
Audio:
Not specified (Dolby AC3, 2 ch)

VTS_12 :
Play Length: 00:01:02
Video: NTSC 16:9 (720x480) VBR, Auto Letterboxed
Audio:
Not specified (Dolby AC3, 2 ch)

––––––––––––––––––––––––––––––––

Title: ScienceFictionTheatre.55.D9.D2
Size: 7.28 Gb ( 7 638 136,00 KBytes ) - DVD-9
Enabled regions: 1, 2, 3, 4, 5, 6, 7, 8

VTS_01 :
Play Length: 00:00:28
Video: NTSC 16:9 (720x480) VBR, Auto Pan&Scan
Audio:
Not specified (Dolby AC3, 2 ch)

VTS_02 :
Play Length: 00:26:04
Video: NTSC 4:3 (720x480) VBR
Audio:
Not specified (Dolby AC3, 2 ch)

VTS_03 :
Play Length: 00:26:01
Video: NTSC 4:3 (720x480) VBR
Audio:
Not specified (Dolby AC3, 2 ch)

VTS_04 :
Play Length: 00:26:01
Video: NTSC 4:3 (720x480) VBR
Audio:
Not specified (Dolby AC3, 2 ch)

VTS_05 :
Play Length: 00:26:03
Video: NTSC 4:3 (720x480) VBR
Audio:
Not specified (Dolby AC3, 2 ch)

VTS_06 :
Play Length: 00:25:36
Video: NTSC 4:3 (720x480) VBR
Audio:
Not specified (Dolby AC3, 2 ch)

VTS_07 :
Play Length: 00:26:02
Video: NTSC 4:3 (720x480) VBR
Audio:
Not specified (Dolby AC3, 2 ch)

VTS_08 :
Play Length: 00:26:07
Video: NTSC 4:3 (720x480) VBR
Audio:
Not specified (Dolby AC3, 2 ch)

VTS_09 :
Play Length: 00:26:04
Video: NTSC 4:3 (720x480) VBR
Audio:
Not specified (Dolby AC3, 2 ch)

VTS_10 :
Play Length: 00:26:03
Video: NTSC 4:3 (720x480) VBR
Audio:
Not specified (Dolby AC3, 2 ch)

VTS_11 :
Play Length: 00:26:01
Video: NTSC 4:3 (720x480) VBR
Audio:
Not specified (Dolby AC3, 2 ch)

––––––––––––––––––––––––––––––––

Title: ScienceFictionTheatre.55.D9.D3
Size: 7.30 Gb ( 7 659 016,00 KBytes ) - DVD-9
Enabled regions: 1, 2, 3, 4, 5, 6, 7, 8

VTS_01 :
Play Length: 00:00:28
Video: NTSC 16:9 (720x480) VBR, Auto Pan&Scan
Audio:
Not specified (Dolby AC3, 2 ch)

VTS_02 :
Play Length: 00:26:05
Video: NTSC 4:3 (720x480) VBR
Audio:
Not specified (Dolby AC3, 2 ch)

VTS_03 :
Play Length: 00:26:04
Video: NTSC 4:3 (720x480) VBR
Audio:
Not specified (Dolby AC3, 2 ch)

VTS_04 :
Play Length: 00:26:05
Video: NTSC 4:3 (720x480) VBR
Audio:
Not specified (Dolby AC3, 2 ch)

VTS_05 :
Play Length: 00:26:07
Video: NTSC 4:3 (720x480) VBR
Audio:
Not specified (Dolby AC3, 2 ch)

VTS_06 :
Play Length: 00:26:04
Video: NTSC 4:3 (720x480) VBR
Audio:
Not specified (Dolby AC3, 2 ch)

VTS_07 :
Play Length: 00:26:04
Video: NTSC 4:3 (720x480) VBR
Audio:
Not specified (Dolby AC3, 2 ch)

VTS_08 :
Play Length: 00:26:05
Video: NTSC 4:3 (720x480) VBR
Audio:
Not specified (Dolby AC3, 2 ch)

VTS_09 :
Play Length: 00:26:02
Video: NTSC 4:3 (720x480) VBR
Audio:
Not specified (Dolby AC3, 2 ch)

VTS_10 :
Play Length: 00:26:02
Video: NTSC 4:3 (720x480) VBR
Audio:
Not specified (Dolby AC3, 2 ch)

VTS_11 :
Play Length: 00:26:03
Video: NTSC 4:3 (720x480) VBR
Audio:
Not specified (Dolby AC3, 2 ch)

––––––––––––––––––––––––––––––––

Title: ScienceFictionTheatre.55.D9.D4
Size: 6.58 Gb ( 6 896 782,00 KBytes ) - DVD-9
Enabled regions: 1, 2, 3, 4, 5, 6, 7, 8

VTS_01 :
Play Length: 00:00:28
Video: NTSC 16:9 (720x480) VBR, Auto Pan&Scan
Audio:
Not specified (Dolby AC3, 2 ch)

VTS_02 :
Play Length: 00:26:04
Video: NTSC 4:3 (720x480) VBR
Audio:
Not specified (Dolby AC3, 2 ch)

VTS_03 :
Play Length: 00:26:05
Video: NTSC 4:3 (720x480) VBR
Audio:
Not specified (Dolby AC3, 2 ch)

VTS_04 :
Play Length: 00:26:02
Video: NTSC 4:3 (720x480) VBR
Audio:
Not specified (Dolby AC3, 2 ch)

VTS_05 :
Play Length: 00:26:05
Video: NTSC 4:3 (720x480) VBR
Audio:
Not specified (Dolby AC3, 2 ch)

VTS_06 :
Play Length: 00:26:05
Video: NTSC 4:3 (720x480) VBR
Audio:
Not specified (Dolby AC3, 2 ch)

VTS_07 :
Play Length: 00:26:05
Video: NTSC 4:3 (720x480) VBR
Audio:
Not specified (Dolby AC3, 2 ch)

VTS_08 :
Play Length: 00:26:02
Video: NTSC 4:3 (720x480) VBR
Audio:
Not specified (Dolby AC3, 2 ch)

VTS_09 :
Play Length: 00:26:04
Video: NTSC 4:3 (720x480) VBR
Audio:
Not specified (Dolby AC3, 2 ch)

VTS_10 :
Play Length: 00:26:03
Video: NTSC 4:3 (720x480) VBR
Audio:
Not specified (Dolby AC3, 2 ch)

––––––––––––––––––––––––––––––––

Title: ScienceFictionTheatre.55.D9.D5
Size: 7.30 Gb ( 7 653 418,00 KBytes ) - DVD-9
Enabled regions: 1, 2, 3, 4, 5, 6, 7, 8

VTS_01 :
Play Length: 00:00:28
Video: NTSC 16:9 (720x480) VBR, Auto Pan&Scan
Audio:
Not specified (Dolby AC3, 2 ch)

VTS_02 :
Play Length: 00:25:48
Video: NTSC 4:3 (720x480) VBR
Audio:
Not specified (Dolby AC3, 2 ch)

VTS_03 :
Play Length: 00:26:05
Video: NTSC 4:3 (720x480) VBR
Audio:
Not specified (Dolby AC3, 2 ch)

VTS_04 :
Play Length: 00:26:07
Video: NTSC 4:3 (720x480) VBR
Audio:
Not specified (Dolby AC3, 2 ch)

VTS_05 :
Play Length: 00:26:06
Video: NTSC 4:3 (720x480) VBR
Audio:
Not specified (Dolby AC3, 2 ch)

VTS_06 :
Play Length: 00:26:04
Video: NTSC 4:3 (720x480) VBR
Audio:
Not specified (Dolby AC3, 2 ch)

VTS_07 :
Play Length: 00:26:05
Video: NTSC 4:3 (720x480) VBR
Audio:
Not specified (Dolby AC3, 2 ch)

VTS_08 :
Play Length: 00:26:06
Video: NTSC 4:3 (720x480) VBR
Audio:
Not specified (Dolby AC3, 2 ch)

VTS_09 :
Play Length: 00:26:06
Video: NTSC 4:3 (720x480) VBR
Audio:
Not specified (Dolby AC3, 2 ch)

VTS_10 :
Play Length: 00:26:07
Video: NTSC 4:3 (720x480) VBR
Audio:
Not specified (Dolby AC3, 2 ch)

VTS_11 :
Play Length: 00:26:05
Video: NTSC 4:3 (720x480) VBR
Audio:
Not specified (Dolby AC3, 2 ch)

––––––––––––––––––––––––––––––––

Title: ScienceFictionTheatre.55.D9.D6
Size: 7.30 Gb ( 7 659 638,00 KBytes ) - DVD-9
Enabled regions: 1, 2, 3, 4, 5, 6, 7, 8

VTS_01 :
Play Length: 00:00:28
Video: NTSC 16:9 (720x480) VBR, Auto Pan&Scan
Audio:
Not specified (Dolby AC3, 2 ch)

VTS_02 :
Play Length: 00:26:07
Video: NTSC 4:3 (720x480) VBR
Audio:
Not specified (Dolby AC3, 2 ch)

VTS_03 :
Play Length: 00:26:05
Video: NTSC 4:3 (720x480) VBR
Audio:
Not specified (Dolby AC3, 2 ch)

VTS_04 :
Play Length: 00:26:06
Video: NTSC 4:3 (720x480) VBR
Audio:
Not specified (Dolby AC3, 2 ch)

VTS_05 :
Play Length: 00:26:05
Video: NTSC 4:3 (720x480) VBR
Audio:
Not specified (Dolby AC3, 2 ch)

VTS_06 :
Play Length: 00:26:06
Video: NTSC 4:3 (720x480) VBR
Audio:
Not specified (Dolby AC3, 2 ch)

VTS_07 :
Play Length: 00:26:06
Video: NTSC 4:3 (720x480) VBR
Audio:
Not specified (Dolby AC3, 2 ch)

VTS_08 :
Play Length: 00:26:05
Video: NTSC 4:3 (720x480) VBR
Audio:
Not specified (Dolby AC3, 2 ch)

VTS_09 :
Play Length: 00:26:02
Video: NTSC 4:3 (720x480) VBR
Audio:
Not specified (Dolby AC3, 2 ch)

VTS_10 :
Play Length: 00:26:05
Video: NTSC 4:3 (720x480) VBR
Audio:
Not specified (Dolby AC3, 2 ch)

VTS_11 :
Play Length: 00:26:06
Video: NTSC 4:3 (720x480) VBR
Audio:
Not specified (Dolby AC3, 2 ch)

––––––––––––––––––––––––––––––––

Title: ScienceFictionTheatre.55.D9.D7
Size: 7.31 Gb ( 7 663 920,00 KBytes ) - DVD-9
Enabled regions: 1, 2, 3, 4, 5, 6, 7, 8

VTS_01 :
Play Length: 00:00:28
Video: NTSC 16:9 (720x480) VBR, Auto Pan&Scan
Audio:
Not specified (Dolby AC3, 2 ch)

VTS_02 :
Play Length: 00:26:08
Video: NTSC 4:3 (720x480) VBR
Audio:
Not specified (Dolby AC3, 2 ch)

VTS_03 :
Play Length: 00:26:06
Video: NTSC 4:3 (720x480) VBR
Audio:
Not specified (Dolby AC3, 2 ch)

VTS_04 :
Play Length: 00:26:05
Video: NTSC 4:3 (720x480) VBR
Audio:
Not specified (Dolby AC3, 2 ch)

VTS_05 :
Play Length: 00:26:08
Video: NTSC 4:3 (720x480) VBR
Audio:
Not specified (Dolby AC3, 2 ch)

VTS_06 :
Play Length: 00:26:05
Video: NTSC 4:3 (720x480) VBR
Audio:
Not specified (Dolby AC3, 2 ch)

VTS_07 :
Play Length: 00:26:06
Video: NTSC 4:3 (720x480) VBR
Audio:
Not specified (Dolby AC3, 2 ch)

VTS_08 :
Play Length: 00:26:06
Video: NTSC 4:3 (720x480) VBR
Audio:
Not specified (Dolby AC3, 2 ch)

VTS_09 :
Play Length: 00:26:04
Video: NTSC 4:3 (720x480) VBR
Audio:
Not specified (Dolby AC3, 2 ch)

VTS_10 :
Play Length: 00:26:06
Video: NTSC 4:3 (720x480) VBR
Audio:
Not specified (Dolby AC3, 2 ch)

VTS_11 :
Play Length: 00:26:05
Video: NTSC 4:3 (720x480) VBR
Audio:
Not specified (Dolby AC3, 2 ch)

––––––––––––––––––––––––––––––––

Title: ScienceFictionTheatre.55.D9.D8
Size: 6.58 Gb ( 6 901 234,00 KBytes ) - DVD-9
Enabled regions: 1, 2, 3, 4, 5, 6, 7, 8

VTS_01 :
Play Length: 00:00:28
Video: NTSC 16:9 (720x480) VBR, Auto Pan&Scan
Audio:
Not specified (Dolby AC3, 2 ch)

VTS_02 :
Play Length: 00:26:06
Video: NTSC 4:3 (720x480) VBR
Audio:
Not specified (Dolby AC3, 2 ch)

VTS_03 :
Play Length: 00:26:06
Video: NTSC 4:3 (720x480) VBR
Audio:
Not specified (Dolby AC3, 2 ch)

VTS_04 :
Play Length: 00:26:07
Video: NTSC 4:3 (720x480) VBR
Audio:
Not specified (Dolby AC3, 2 ch)

VTS_05 :
Play Length: 00:26:06
Video: NTSC 4:3 (720x480) VBR
Audio:
Not specified (Dolby AC3, 2 ch)

VTS_06 :
Play Length: 00:26:06
Video: NTSC 4:3 (720x480) VBR
Audio:
Not specified (Dolby AC3, 2 ch)

VTS_07 :
Play Length: 00:26:04
Video: NTSC 4:3 (720x480) VBR
Audio:
Not specified (Dolby AC3, 2 ch)

VTS_08 :
Play Length: 00:26:06
Video: NTSC 4:3 (720x480) VBR
Audio:
Not specified (Dolby AC3, 2 ch)

VTS_09 :
Play Length: 00:26:07
Video: NTSC 4:3 (720x480) VBR
Audio:
Not specified (Dolby AC3, 2 ch)

VTS_10 :
Play Length: 00:26:06
Video: NTSC 4:3 (720x480) VBR
Audio:
Not specified (Dolby AC3, 2 ch)


All thanks to the original uploader