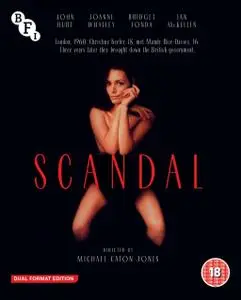 Scandal (1989) [British Film Institute]
Blu-Ray | BDMV | AVC, 1920x1080, ~34.7 Mbps | 1hr 54mn | 43,6 GB
English: LPCM Audio, 2 ch, 2304 kbps; English (Commentary x 2): AC3, 2 ch, 192 kbps
Subtitles: English
Genre: Drama, History


Director:
Michael Caton-Jones
Writers:
Michael Thomas
Stars:
John Hurt, Joanne Whalley, Bridget Fonda
Film Distributor:
BFI (British Film Institute)
An English bon-vivant osteopath is enchanted with a young exotic dancer and invites her to live with him. He serves as friend and mentor, and through his contacts and parties she and her friend meet and date members of the Conservative Party. Eventually a scandal occurs when her affair with the Minister of War goes public, threatening their lifestyles and their freedom. Based on the real Profumo scandal of 1963.
Extras:
- Feature commentary by producer Stephen Woolley and writer Michael Thomas
- Feature commentary by director Michael Caton-Jones
- The Minister, the Model & the Russian Spy: Making Scandal (2010, 25 mins): members of the Scandal cast and crew discuss the film
- Michael Caton-Jones Remembers Scandal (2019, 27 mins, Blu-ray only): new interview in which the director recalls making the film
- Stephen Woolley Remembers Scandal (2019, 40 mins, Blu-ray only): the producer on how he got the film made and the talent he worked with
- Nothing Has Been Proved: Official Music Video performed by Dusty Springfield (1989, 5 mins)
- Cabaret Girl (1956, 26 mins): documentary on Murray's Cabaret Club, shot shortly before its owner hired Christine Keeler and Mandy Rice-Davies as dancers
- The Riveter (1986, 35 mins): short by Michael Caton-Jones, made while he was a student at the National Film and Television School
- Trailer
- Stills gallery
- First pressing only: Illustrated booklet containing essays by Jane Giles and Augustin Macellari, notes on the special features and film credits
- Optional English SDH subtitles for the main feature

                                                                                                                Total   Video                                             
Title                                                           Codec   Length  Movie Size      Disc Size       Bitrate Bitrate Main Audio Track                          Secondary Audio Track
-----                                                           ------  ------- --------------  --------------  ------- ------- ------------------                        ---------------------
00744.MPLS                                                      AVC     1:54:22 33 707 880 000  46 822 366 442  39,30   34,73   LPCM 2.0 2304Kbps (48kHz/24-bit)          



DISC INFO:

Disc Title:     Scandal.1989.BFI.Br
Disc Size:      46 822 366 442 bytes
Protection:     AACS
BD-Java:        Yes
BDInfo:         0.5.8

PLAYLIST REPORT:

Name:                   00744.MPLS
Length:                 1:54:22.125 (h:m:s.ms)
Size:                   33 707 880 000 bytes
Total Bitrate:          39,30 Mbps

VIDEO:

Codec                   Bitrate             Description     
-----                   -------             -----------     
MPEG-4 AVC Video        34733 kbps          1080p / 24 fps / 16:9 / High Profile 4.1

AUDIO:

Codec                           Language        Bitrate         Description     
-----                           --------        -------         -----------     
LPCM Audio                      English         2304 kbps       2.0 / 48 kHz / 2304 kbps / 24-bit
Dolby Digital Audio             English         192 kbps        2.0 / 48 kHz / 192 kbps
Dolby Digital Audio             English         192 kbps        2.0 / 48 kHz / 192 kbps

SUBTITLES:

Codec                           Language        Bitrate         Description     
-----                           --------        -------         -----------     
Presentation Graphics           English         38,240 kbps                     

FILES:

Name            Time In         Length          Size            Total Bitrate   
----            -------         ------          ----            -------------   
00000.M2TS      0:00:00.000     1:54:22.125     33 707 880 000  39 297          

CHAPTERS:

Number          Time In         Length          Avg Video Rate  Max 1-Sec Rate  Max 1-Sec Time  Max 5-Sec Rate  Max 5-Sec Time  Max 10Sec Rate  Max 10Sec Time  Avg Frame Size  Max Frame Size  Max Frame Time  
------          -------         ------          --------------  --------------  --------------  --------------  --------------  --------------  --------------  --------------  --------------  --------------  
1               0:00:00.000     0:06:57.750     35 039 kbps     47 736 kbps     00:02:35.416    40 693 kbps     00:01:58.583    39 620 kbps     00:03:16.791    182 476 bytes   634 424 bytes   00:05:19.875    
2               0:06:57.750     0:12:13.791     34 955 kbps     51 358 kbps     00:13:25.708    40 856 kbps     00:07:01.291    39 235 kbps     00:13:25.375    182 057 bytes   595 953 bytes   00:08:25.250    
3               0:19:11.541     0:09:20.833     34 992 kbps     49 048 kbps     00:24:39.916    40 751 kbps     00:26:42.875    39 290 kbps     00:25:31.041    182 252 bytes   545 927 bytes   00:19:38.541    
4               0:28:32.375     0:09:37.791     34 763 kbps     52 360 kbps     00:30:09.791    41 284 kbps     00:30:19.333    39 220 kbps     00:30:28.833    181 056 bytes   592 051 bytes   00:33:25.791    
5               0:38:10.166     0:09:51.166     35 153 kbps     46 696 kbps     00:41:27.958    40 505 kbps     00:39:39.333    39 123 kbps     00:39:39.333    183 089 bytes   535 547 bytes   00:40:26.291    
6               0:48:01.333     0:08:41.458     35 205 kbps     47 067 kbps     00:56:11.875    40 994 kbps     00:52:41.083    39 468 kbps     00:52:41.083    183 360 bytes   603 188 bytes   00:53:08.250    
7               0:56:42.791     0:08:53.291     34 688 kbps     49 310 kbps     00:58:28.125    41 201 kbps     00:57:18.166    38 995 kbps     01:00:11.250    180 665 bytes   509 290 bytes   01:01:59.250    
8               1:05:36.083     0:08:55.333     34 624 kbps     52 765 kbps     01:11:05.000    40 411 kbps     01:11:04.916    39 420 kbps     01:14:01.333    180 333 bytes   609 307 bytes   01:11:05.041    
9               1:14:31.416     0:11:49.458     34 981 kbps     48 320 kbps     01:23:59.916    41 010 kbps     01:14:36.041    39 398 kbps     01:14:35.000    182 192 bytes   533 371 bytes   01:14:38.208    
10              1:26:20.875     0:09:38.333     34 516 kbps     50 356 kbps     01:32:09.250    40 798 kbps     01:33:50.208    39 193 kbps     01:27:16.625    179 771 bytes   528 463 bytes   01:32:09.958    
11              1:35:59.208     0:10:39.666     35 599 kbps     50 281 kbps     01:46:04.916    41 198 kbps     01:40:36.708    39 318 kbps     01:40:35.458    185 409 bytes   599 289 bytes   01:46:05.041    
12              1:46:38.875     0:07:43.250     31 572 kbps     51 281 kbps     01:46:41.666    41 204 kbps     01:46:41.666    39 618 kbps     01:48:05.208    164 466 bytes   592 444 bytes   01:50:38.250    

STREAM DIAGNOSTICS:

File            PID             Type            Codec           Language                Seconds                 Bitrate                 Bytes           Packets         
----            ---             ----            -----           --------                --------------          --------------          -------------   -----           
00000.M2TS      4113 (0x1011)   0x1B            AVC                                     6862,042                34 734                  29 793 378 620  162 018 949     
00000.M2TS      4352 (0x1100)   0x80            LPCM            eng (English)           6862,042                2 310                   1 981 781 700   10 979 400      
00000.M2TS      4353 (0x1101)   0x81            AC3             eng (English)           6862,042                192                     164 690 688     1 072 205       
00000.M2TS      4354 (0x1102)   0x81            AC3             eng (English)           6862,042                192                     164 690 688     1 072 205       
00000.M2TS      4608 (0x1200)   0x90            PGS             eng (English)           6862,042                38                      32 801 459      189 218         


All thanks to the original uploader



If you like this release please visit my blog
In it you will find ALL the latest BFI releases