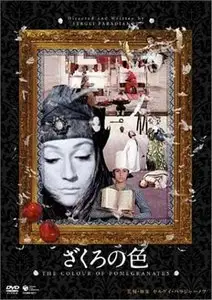 The Color of Pomegranates (1968)
DVD5 Custom | VIDEO_TS | NTSC 4:3 | 01:12:56 | 4,36 Gb
Audio: Armenian AC3 2.0 @ 256 Kbps | Subs (added): English, Español, Italiano
Genre: Art-house, Drama
Director:
Sergei Parajanov
Writers:
Sayat Nova (poems), Sergei Parajanov
Stars:
Sofiko Chiaureli, Melkon Alekyan, Vilen Galstyan
One of the greatest masterpieces of the 20th century, Sergei Parajanov's "Color of the Pomegranate", a biography of the Armenian troubadour Sayat Nova (King of Song) reveals the poet's life more through his poetry than a conventional narration of important events in Sayat Nova's life. We see the poet grow up, fall in love, enter a monastery and die, but these incidents are depicted in the context of what are images from Sergei Parajanov's imagination and Sayat Nova's poems, poems that are seen and rarely heard. Sofiko Chiaureli plays 6 roles, both male and female, and Sergei Parajanov writes, directs, edits, choreographs, works on costumes, design and decor and virtually every aspect of this revolutionary work void of any dialog or camera movement.
The work of painter, musician, mystic and filmmaker Sergei Paradjanov (1924-1990) constantly defies categorisation. His films are notable for their lyrical inspiration and great aesthetic beauty, but riled the Soviet authorities to such an extent that Paradjanov faced constant harrassment throughout his life. Like his earlier film, Shadows of Our Forgotten Ancestors (1965), The Colour of Pomegranates was banned…




Ostensibly a biopic of rebellious 18th century Armenian poet Sayat Nova, The Colour of Pomegranates follows the poet's path from his childhood wool-dying days to his role as a courtier and finally his life as a monk. But Armenian director Sergei Paradjanov warns us from the start that this is no ordinary biopic: "This is not a true biography," he has his narrator state during the opening credits.




Indeed it is not. With barely any dialogue, The Colour of Pomegranates depicts the poet's story through a series of extraordinary lyrical tableux set to his work – read by the narrator at the start of each new chapter of Sayat Nova's life. It's akin to visual choreography, with esoteric, intriguing and often unforgettable imagery…




Vivid and iconographic, the images interweave landscapes, costumes and music to form a metaphorical history of the Armenian nation and a tangible expression of its spirit, free from any Soviet ideological constraints of the time of its making.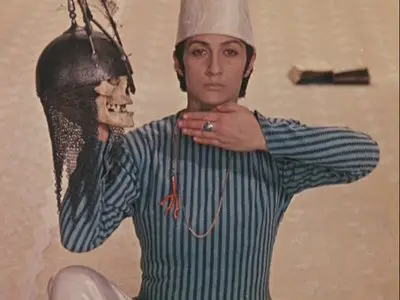 Inspired by Armenian miniatures and icons, its tableaux slowly evoke - rather than tell - the life of the 18th-century poet and troubadour Sayat Nova. Because of its impressionistic, allegorical approach, many have described the film as non-narrative, but it is, in fact, fairly linear in its storytelling. We see the young poet growing up in a simple, wool-farming community; his time as bard at the court of King Erekle II; his desire for the king's sister; the loss of this love; his retreat to monastic life; his grief over the death of his mentor, Father Lazarus; and in turn, his own old age and death.




As the troubadour moves towards death, his former muse and childhood self appear among the compositions as he looks back on his life - 'In the Sun Valley of the distant years, live my longings, my loves and my childhood' - but the film tends to move forward with few flashbacks. It is more that the linearity becomes lost among the rich symbolism and surrealist touches. As Sayat Nova falls in love with his muse, the beautiful princess at court, Paradjanov introduces interludes of masque and mime artistry as a couple perform a dancing courtship, disappearing and reappearing among hanging woven rugs. The poet's death is portrayed through a long sequence of allegories: chained workers scything hay; a blindfolded man stumbling through a bleak landscape populated by dancing angels; a swinging pendulum that knocks his childhood self to the ground; the poet laid with arms outstretched among glowing candles as white chickens fall around him.




The unique poetry and symbolism of these images can leave the viewer a little disorientated at times - especially those unfamiliar with the traditional culture of the Caucasus - but the opacity somehow adds to the mystery and majesty; and on repeated viewings, the recurring motifs reveal the inner logic of the film and the way that early experiences influenced the elder poet. The colourful woollen yarn, the chaotic farm animals, the literature and the music of his youth informed his artistic conception of the world ('From the colours and aromas of this world, my childhood made a poet's lyre and offered it to me'). Sayat Nova's death scene among the chickens perfectly recalls an exquisitely beautiful scene from earlier in the film, when the child poet lies down on a monastery roof, surrounded by books, pages rustling in the wind, his arms outstretched and staring up at the sky.




Laden with the poet's suffering and biblical and folkloric symbolism, there is an epic, earnest solemnity to The Colour of Pomegranates; and while such gravity and careful construction could lead to austerity and artificiality, there is also a consuming warmth and sensuality. His effervescent and corporeal sensibility mirrors Pasolini and Fellini more closely than his other mentor, Tarkovsky. The extraordinarily striking actress Sofiko Chiaureli plays the part of both poet and muse, exploring male and female sexuality (Paradjanov was himself bisexual and first imprisoned for a homosexual act with a KGB officer) and the film is joyously abundant with melodic folk music and heightened sounds: the crinkling of books' pages; the squelch of pomegranate seeds; the dripping of wool dye onto metallic plates; the urgent chirping of bird song. There is almost no dialogue in the film; instead these sounds, intertitles displaying lines from Sayat Nova's poems and the occasional voice-over convey the message.




The Colour of Pomegranates is an emotionally affecting film and is especially poignant given Paradjanov's own suffering in prison and the loss of his first wife, who was murdered by her own family after converting from Islam to Christianity. Lost loves and issues of ethnicity, subjects raw to his heart, are treated with immense compassion. And yet, The Colour of Pomegranates is also a film that joyously arouses all the senses: a truly sensory experience without precedent or successor. Paradjanov once said, 'whoever tries to imitate me is lost'. Given the unique, mystifying, enigmatic visions he sets before the viewer, imitation would be frankly impossible.


Electric Sheep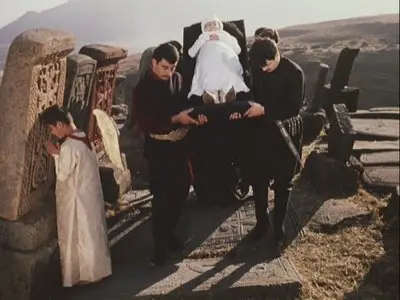 Special Features:None
Many Thanks to Original uploader.
–––––––––––––––––––––––––––––––––––––––