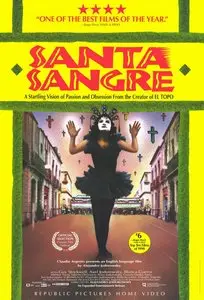 Santa sangre (1989)
DVD Video, DVD9 x Bonus DVD9 | 1hr 58mn | PAL 16:9 | 720x576 | 6.76 Gb + 5.87 Gb
DVD9 - English \ German: Dolby AC3, 2 ch; English: Dolby AC3, 6 ch; Subtitle: German, English
Bonus DVD9 - French: Dolby AC3, 2 ch; Subtitle: German
Genre: Drama | Horror
IMDB Rating: 7.7/10 (14.315 votes)
Director:
Alejandro Jodorowsky
Writer:
Alejandro Jodorowsky (story), Roberto Leoni (adaptation)
Stars:
Axel Jodorowsky, Blanca Guerra, Guy Stockwell
A young man is confined in a mental hospital. Through a flashback we see that he was traumatized as a child, when he and his family were circus performers: he saw his father cut off the arms of his mother, a religious fanatic and leader of the heretical church of Santa Sangre ("Holy Blood"), and then commit suicide. Back in the present, he escapes and rejoins his surviving and armless mother. Against his will, he "becomes her arms" and the two undertake a grisly campaign of murder and revenge.
Disc One. Extras:
• Audio Commentary with director/co-writer Alejandro Jodorowsky and British journalist Alan Jones (in English with German subs)

Title: SantaSangre.89.D9.1
Size: 6.76 Gb ( 7 085 234,00 KBytes ) - DVD-9
Enabled regions: 1, 2, 3, 4, 5, 6, 7, 8

VTS_01 :
Play Length: 00:00:22
Video: PAL 16:9 (720x576) VBR, Auto Letterboxed
Audio:
Not specified (Dolby AC3, 2 ch)

VTS_02 :
Play Length: 01:58:05
Video: PAL 16:9 (720x576) VBR, Auto Letterboxed
Audio:
Deutsch (Dolby AC3, 2 ch)
English (Dolby AC3, 2 ch)
English (Dolby AC3, 6 ch)
English (Dolby AC3, 2 ch)
Subtitles:
Deutsch
English
Deutsch
Not specified

Disc Two. Extras:
• "La Constellation Jodorowsky" (The Jodorowsky Constellation, 1994) documentary film by French writer and director Louis Mouchet (86 mins) in French with German subs
• "Echek" Adan Jodorowsky's debut short film (with optional commentary by Alejandro Jodorowsky)
• Interview with Alejandro Jodorowsky
• Deleted Scenes (with optional commentary)
• Photo gallery
• Trailer

Title: SantaSangre.89.D9.2
Size: 5.87 Gb ( 6 156 478,00 KBytes ) - DVD-9
Enabled regions: 1, 2, 3, 4, 5, 6, 7, 8

VTS_01 :
Play Length: 00:00:22
Video: PAL 16:9 (720x576) VBR, Auto Letterboxed
Audio:
Not specified (Dolby AC3, 2 ch)

VTS_02 :
Play Length: 01:26:07
Video: PAL 4:3 (720x576) VBR
Audio:
Francais (Dolby AC3, 2 ch)
Subtitles:
Deutsch

VTS_03 :
Play Length: 00:03:58
Video: PAL 4:3 (720x576) VBR
Audio:
Not specified (Dolby AC3, 2 ch)
English (Dolby AC3, 2 ch)
Subtitles:
Deutsch
Deutsch

VTS_04 :
Play Length: 00:24:35
Video: PAL 16:9 (720x576) VBR, Auto Letterboxed
Audio:
English (Dolby AC3, 2 ch)
Subtitles:
Deutsch

VTS_05 :
Play Length: 00:04:36
Video: PAL 4:3 (720x576) VBR
Audio:
English (Dolby AC3, 2 ch)
Subtitles:
Deutsch

VTS_06 :
Play Length: 00:01:35
Video: PAL 4:3 (720x576) VBR
Audio:
Deutsch (Dolby AC3, 2 ch)