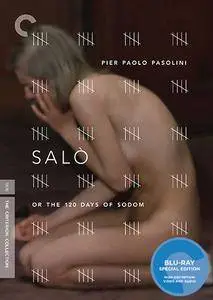 Salo o le 120 giornate di Sodoma / Salo, or the 120 Days of Sodom (1975) [Criterion Collection, Spine #17]
Blu-Ray | BDMV | AVC, 1920x1080, ~26.0 Mbps | 1hr 56mn | 42,6 GB
Italian: LPCM Audio, 1 ch, 1152 kbps; English: AC3, 1 ch, 192 kbps
Subtitles: English
Genre: Drama, War

Director:
Pier Paolo Pasolini
Writers:
Sergio Citti, Pier Paolo Pasolini
Stars:
Paolo Bonacelli, Laura Betti, Giorgio Cataldi
The notorious final film from Pier Paolo Pasolini, Salò, or The 120 Days of Sodom has been called nauseating, shocking, depraved, pornographic . . . It's also a masterpiece. The controversial poet, novelist, and filmmaker's transposition of the Marquis de Sade's eighteenth-century opus of torture and degradation to Fascist Italy in 1944 remains one of the most passionately debated films of all time, a thought-provoking inquiry into the political, social, and sexual dynamics that define the world we live in.
Extras:
- Salo: Yesterday and Today: This documentary, which details the film's production, features interviews with director Pasolini, actress Helene Surgere, collaborator Jean-Claude Biette, and actor Ninetto Davoli. The subjects provide great insight, but the highlight here is the archival footage of Salo's final days of production.
- Fade to Black: Another interview-heavy piece, this documentary by Nigel Algar gathers directors Bernardo Bertolucci (Last Tango in Paris), Catherine Breillat (Fat Girl), John Maybury (Love is the Devil), and Professor David Forgacs to argue the merits of Pasolini and his final film.
- The End of Salo: Actors Antinisca Nemour and Paolo Bonacelli, (uncredited) screenwriter Pupi Avati (who admits to have never seeing Salo), production designer Dante Ferretti, and more all reflect on Pasolini and the making of Salo. Similar to the other features, but the first-hand accounts provided here are unmatched.
- Dante Ferretti: The production designer discusses his relationship with friend/collaborator Pasolini.
- Jean-Pierre Gorin: The filmmaker provides his well-rounded thoughts on Salo.
- Trailer


DISC INFO:

Disc Title: SaloOr120DaysOfSodom.75.BR
Disc Size: 45 796 360 255 bytes
Protection: AACS
BD-Java: Yes
BDInfo: 0.5.8

PLAYLIST REPORT:

Name: 00001.MPLS
Length: 1:56:43.413 (h:m:s.ms)
Size: 26 199 060 480 bytes
Total Bitrate: 29,93 Mbps

VIDEO:

Codec Bitrate Description
––- –––- –––––-
MPEG-4 AVC Video 25996 kbps 1080p / 23,976 fps / 16:9 / High Profile 4.1

AUDIO:

Codec Language Bitrate Description
––- –––– –––- –––––-
LPCM Audio Italian 1152 kbps 1.0 / 48 kHz / 1152 kbps / 24-bit
Dolby Digital Audio English 192 kbps 1.0 / 48 kHz / 192 kbps

SUBTITLES:

Codec Language Bitrate Description
––- –––– –––- –––––-
Presentation Graphics English 27,365 kbps
Presentation Graphics English 0,236 kbps

FILES:

Name Time In Length Size Total Bitrate
–– –––- ––– –– ––––––-
00274.M2TS 0:00:00.000 1:56:43.413 26 199 060 480 29 927

–––––––––––––––––––––––––––––––––––––––––––––––––––––––-


All thanks to the original uploader