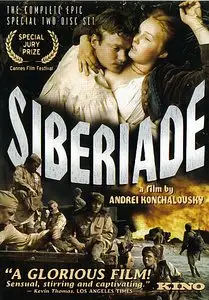 Directors:
Andrey Konchalovskiy (as Andrey Mikhalkov.Konchalovskiy), Leonid Ejdlin
Writers:
Valentin Ezhov, Andrey Konchalovskiy
Stars:
Nikita Mikhalkov, Vitali Solomin, Sergey Shakurov
The story about a very small god-forgotten village in Siberia reflects the history of Russia from the beginning of the century till early 80s. Three generations try to find the land of happiness and to give it to the people. One builds the road through taiga to the star over horizon, the second 'build communism' and the third searches for oil. The oil is found but the destruction of the old cemetry and everything the people of the village cared for followed to get the 'black treasure' of Siberia.
Название:
Сибириада
Год выпуска:
1978
Жанр:
Драма, военный, исторический
Выпущено:
Россия
Режиссер:
Андрей Кончаловский
В ролях:
Наталья Андрейченко, Сергей Шакуров, Никита Михалков, Виталий Соломин, Владимир Самойлов, Константин Григорьев, Людмила Гурченко
О фильме:
В сибирской глухомани, среди тайги и болот, живут в небольшом селе Елань две семьи, издавна враждующие меж собой: «кулаки» Соломины и бедняки Устюжанины. И не ведают они до поры, что суждено им породниться, что вопреки всем ветрам истории судьба будет сталкивать их снова и снова, и в ненависти, и в любви; не ведают, какие кровавые, трагические события ждут их впереди.
Thanks to original uploader