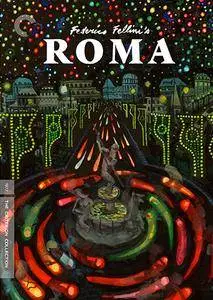 Roma (1972)[Criterion Collection, Spine #848]
DVD Video | NTSC 16:9 | 720x480 | 2hr 00mn | 7.35 Gb
Italian \ English(Commentaru): Dolby AC3, 1 ch
Subtitles: English
Genre: Comedy, Drama
IMDB Rating: 7.4/10 (8.936 votes)
Director:
Federico Fellini
Writers:
Federico Fellini, Bernardino Zapponi
Stars:
Britta Barnes, Peter Gonzales Falcon, Fiona Florence
A virtually plotless, gaudy, impressionistic portrait of Rome through the eyes of one of its most famous citizens. blending autobiography (a reconstruction of Fellini's own arrival in Rome during the Mussolini years; a trip to a brothel and a music-hall) with scenes from present-day Roman life (a massive traffic jam on the autostrada; a raucous journey through Rome after dark; following an archaeological team through the site of the Rome subways; an unforgettable ecclesiastical fashion show)
Extras:
-
English commentary
- in this brand new audio commentary, Frank Burke, author of Fellini's Films, discusses in great detail the narrative structure and major themes of Roma, the symbolism in key sequences, some fascinating typically Fellini-esque visual contrasts, specific framing/lensing choices, politic themes that emerge throughout the film, etc. The commentary was recorded exclusively for Criterion in 2016.
-
Deleted Scenes
- a collection of restored scenes that were removed by Federico Fellini when the International Version of Roma was finalized. Two of the most notable scenes feature cameos by Marcello Mastroianni and Alberto Sordi. Each scene is preceded by a text description. In Italian, with optional English subtitles.
-
Paolo Sorrentino
- in this brand new video interview, acclaimed dierctor Paolo Sorrentino (The Great Beauty, Youth) discusses the impact Federico Fellini's films had on him, the manner in which the legendary director balanced creative freedom with technical expertise, some specific themes that were introduced in films like La Dolce Vita that years later re-emerged and evolved in his films, Roma and its placement in the director's oeuvre, etc. The interview is moderated by New York University film professor and critic Antonio Monda. It was conducted exclusively for Criterion in 2016. In Italian, with optional English subtitles.
-
Valerio Magrelli
- in this brand new featurette poet Valerio Magrelli, author of The Family Shaman: Homeopathy, Pornography, Directing in 77 Drawings by Fellini (2015), recalls his first encounter with Federico Fellini in Rome (which took place during the filming of Casanova), and discusses the great director's relationship with art and culture, the qualities that make his films stand out, Roma and the unique Fellini-esque image of the Italian capital it promotes, etc. The featurette was created exclusively for Criterion in 2016. In Italian, with optional English subtitles.
-
Felliniana
- presented here are a selection of posters and promotional materials for Roma from collector Don Young's Felliniana Archive, followed by a selection of behind-the-scenes photographs of the production from the MGM archives. With music.
-
U.S. Trailer
- original domestic U.S. trailer for Roma. In English, not subtitled.


Title: Roma.72.D9.Cr
Size: 7.35 Gb ( 7 709 042,00 KBytes ) - DVD-9
Enabled regions: 1, 2, 3, 4, 5, 6, 7, 8

VTS_01 :
Play Length: 00:00:00
Video: NTSC 16:9 (720x480) VBR, Auto Letterboxed

VTS_02 :
Play Length: 02:00:24
Video: NTSC 16:9 (720x480) VBR, Auto Letterboxed
Audio:
Italiano (Dolby AC3, 1 ch)
English (Dolby AC3, 1 ch)
Subtitles:
English

VTS_03 :
Play Length: 00:00:20
Video: NTSC 16:9 (720x480) VBR, Auto Pan&Scan

VTS_04 :
Play Length: 00:17:31
Video: NTSC 16:9 (720x480) VBR, Auto Letterboxed
Audio:
Italiano (Dolby AC3, 1 ch)
Subtitles:
English

VTS_05 :
Play Length: 00:02:46
Video: NTSC 16:9 (720x480) VBR, Auto Letterboxed
Audio:
English (Dolby AC3, 1 ch)

VTS_06 :
Play Length: 00:15:16
Video: NTSC 16:9 (720x480) VBR, Auto Letterboxed
Audio:
Italiano (Dolby AC3, 2 ch)
Subtitles:
English

VTS_07 :
Play Length: 00:16:19
Video: NTSC 16:9 (720x480) VBR, Auto Letterboxed
Audio:
Italiano (Dolby AC3, 1 ch)
Subtitles:
English

VTS_08 :
Play Length: 00:18:31
Video: NTSC 16:9 (720x480) VBR, Auto Letterboxed
Audio:
English (Dolby AC3, 1 ch)

VTS_09 :
Play Length: 00:00:00
Video: NTSC 16:9 (720x480) VBR, Auto Letterboxed