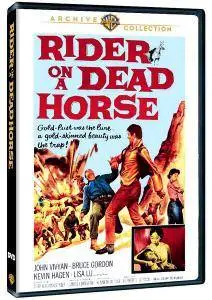 Rider on a Dead Horse (1962)
English | DVDRip | AVI | 720x400 | XviD @ 1844 kb/s | 1053.82 MB
Audio: AC3 @ 192 kb/s | 2 channels | 01:12:06 minutes
Genre: Western
The search for gold brings three men together – but greed drives one of them to murder! John Vivyan, star of Blake Edward's TV series Mr. Lucky, trades urbane cool for sweaty grit to play Hayden, one of three tough prospectors who strike it big, then bury their fortune in the blistering Arizona desert to protect it from hostile Apaches. But Hayden needs protection himself when one of his partners decides all the loot is better than a third.