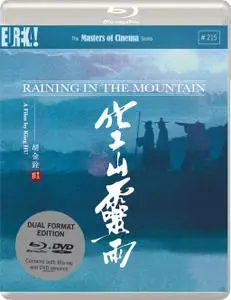 Raining in the Mountain / Kong shan ling yu (1979) [Masters of Cinema - Eureka!, #215]
Blu-Ray | BDMV | AVC, 1920x1080, ~34.9 Mbps | 2hr 01mn | 38,6 GB
Chinese (中文): LPCM Audio, 1 ch, 1152 kbps \ English (Commentary): AC3, 2 ch, 192 kbps
Subtitles: English
Genre: Action, Drama


Director:
King Hu
Writer:
King Hu
Stars:
Feng Hsu, Yueh Sun, Chun Shih |
An esquire brings a female thief and his bailiff to search out a priceless handwritten scroll by Tripitaka, in a temple at the mountains. Meanwhile, a General and his lieutenant arrives for the same reason. Both of them are invited to help advise the ailing Abbot of his successor. The esquire and the General supports a different senior disciple.
Extras:
- Limited Edition O-Card [2000 units]
- 1080p transfer of the film on Blu-ray, from the Taiwan Film Institute's 2K restoration
- Optional English subtitles
- Original Mandarin audio, fully restored and uncompressed in its original monaural presentation
- Brand new and exclusive feature-length audio commentary by critic and Asian cinema expert Tony Rayns
- Beyond Description – A brand new video essay by David Cairns
- Trailer
- A collector's booklet featuring new essays by Chinese-language film expert and author Stephen Teo; and Asian cinema expert David West, news editor at NEO magazine

                                                                                                                Total   Video                                             
Title                                                           Codec   Length  Movie Size      Disc Size       Bitrate Bitrate Main Audio Track                          Secondary Audio Track
-----                                                           ------  ------- --------------  --------------  ------- ------- ------------------                        ---------------------
00000.MPLS                                                      AVC     2:01:33 35 718 307 392  41 532 132 023  39,18   34,87   LPCM 1.0 1152Kbps (48kHz/24-bit)          



DISC INFO:

Disc Title:     RainingInTheMountain.1979.MoC.Br
Disc Size:      41 532 132 023 bytes
Protection:     AACS
BD-Java:        No
BDInfo:         0.5.8

PLAYLIST REPORT:

Name:                   00000.MPLS
Length:                 2:01:33.327 (h:m:s.ms)
Size:                   35 718 307 392 bytes
Total Bitrate:          39,18 Mbps

VIDEO:

Codec                   Bitrate             Description     
-----                   -------             -----------     
MPEG-4 AVC Video        34873 kbps          1080p / 23,976 fps / 16:9 / High Profile 4.1

AUDIO:

Codec                           Language        Bitrate         Description     
-----                           --------        -------         -----------     
LPCM Audio                      Chinese         1152 kbps       1.0 / 48 kHz / 1152 kbps / 24-bit
Dolby Digital Audio             English         192 kbps        2.0 / 48 kHz / 192 kbps

SUBTITLES:

Codec                           Language        Bitrate         Description     
-----                           --------        -------         -----------     
Presentation Graphics           English         16,849 kbps                     

FILES:

Name            Time In         Length          Size            Total Bitrate   
----            -------         ------          ----            -------------   
00000.M2TS      0:00:00.000     2:01:33.327     35 718 307 392  39 179          

CHAPTERS:

Number          Time In         Length          Avg Video Rate  Max 1-Sec Rate  Max 1-Sec Time  Max 5-Sec Rate  Max 5-Sec Time  Max 10Sec Rate  Max 10Sec Time  Avg Frame Size  Max Frame Size  Max Frame Time  
------          -------         ------          --------------  --------------  --------------  --------------  --------------  --------------  --------------  --------------  --------------  --------------  
1               0:00:00.000     0:10:27.793     34 570 kbps     47 171 kbps     00:04:43.908    39 783 kbps     00:03:55.109    39 000 kbps     00:09:53.467    180 218 bytes   631 405 bytes   00:06:54.372    
2               0:10:27.793     0:08:02.773     35 190 kbps     46 346 kbps     00:14:49.221    39 723 kbps     00:15:17.666    38 726 kbps     00:18:18.972    183 466 bytes   660 668 bytes   00:16:29.530    
3               0:18:30.567     0:08:36.974     35 183 kbps     46 547 kbps     00:24:44.691    39 220 kbps     00:22:38.440    38 493 kbps     00:22:30.974    183 426 bytes   564 972 bytes   00:25:26.316    
4               0:27:07.542     0:05:35.043     35 052 kbps     44 504 kbps     00:28:07.977    39 474 kbps     00:28:39.759    38 368 kbps     00:28:07.977    182 747 bytes   465 444 bytes   00:28:05.600    
5               0:32:42.585     0:10:46.103     34 862 kbps     46 242 kbps     00:35:31.420    39 024 kbps     00:34:41.245    37 818 kbps     00:43:18.012    181 754 bytes   565 050 bytes   00:40:49.238    
6               0:43:28.689     0:08:18.331     35 060 kbps     46 638 kbps     00:45:03.575    39 923 kbps     00:46:17.024    38 702 kbps     00:46:17.608    182 787 bytes   612 061 bytes   00:45:03.534    
7               0:51:47.020     0:09:13.594     35 068 kbps     50 874 kbps     00:55:43.965    39 409 kbps     00:56:09.324    38 689 kbps     00:56:19.167    182 829 bytes   543 117 bytes   00:54:57.002    
8               1:01:00.615     0:10:27.585     35 054 kbps     44 626 kbps     01:06:29.151    38 945 kbps     01:10:25.346    38 445 kbps     01:04:22.608    182 754 bytes   545 856 bytes   01:05:36.182    
9               1:11:28.200     0:06:52.745     34 365 kbps     47 202 kbps     01:12:36.727    39 699 kbps     01:17:10.959    38 446 kbps     01:14:33.886    179 165 bytes   784 677 bytes   01:14:32.926    
10              1:18:20.946     0:08:41.520     34 759 kbps     45 630 kbps     01:19:31.600    39 838 kbps     01:24:12.547    38 823 kbps     01:24:12.547    181 220 bytes   573 378 bytes   01:26:55.835    
11              1:27:02.467     0:08:05.943     35 199 kbps     44 088 kbps     01:28:34.475    39 467 kbps     01:29:39.040    38 758 kbps     01:29:13.181    183 510 bytes   563 897 bytes   01:32:16.322    
12              1:35:08.411     0:09:08.881     35 026 kbps     46 901 kbps     01:44:03.779    39 640 kbps     01:37:59.999    38 818 kbps     01:37:56.161    182 610 bytes   560 545 bytes   01:41:02.765    
13              1:44:17.292     0:08:21.375     34 658 kbps     46 383 kbps     01:49:14.256    39 434 kbps     01:51:02.030    38 612 kbps     01:51:01.863    180 690 bytes   704 948 bytes   01:44:23.840    
14              1:52:38.668     0:08:54.659     34 208 kbps     46 603 kbps     01:59:21.279    39 113 kbps     01:58:58.631    38 541 kbps     01:58:59.340    178 375 bytes   611 255 bytes   01:58:16.005    

STREAM DIAGNOSTICS:

File            PID             Type            Codec           Language                Seconds                 Bitrate                 Bytes           Packets         
----            ---             ----            -----           --------                --------------          --------------          -------------   -----           
00000.M2TS      4113 (0x1011)   0x1B            AVC                                     7293,244                34 874                  31 792 633 383  172 890 097     
00000.M2TS      4352 (0x1100)   0x80            LPCM            zho (Chinese)           7293,244                2 310                   2 106 300 708   11 669 256      
00000.M2TS      4353 (0x1101)   0x81            AC3             eng (English)           7293,244                192                     175 038 720     1 139 575       
00000.M2TS      4608 (0x1200)   0x90            PGS             eng (English)           7293,244                17                      15 361 181      89 744          


All thanks to the original uploader



If you like this release please visit my blog
In it you will find "Masters of Cinema - Eureka!" releases (DVD, DVDRip, Blu-Ray, BDRip)